Conbrov T19 Hidden Spy Camera
An easy-to-use hidden spy camera disguised as a car key fob, that records in high definition 1280x720P resolution.
Featuring auto night vision, motion detection, optional audio and an impressive standby time of one year.
Highlights
1280×720 Resolution with auto night vision
No visible record lights, even in darkness
Motion detection to a range of 5m
Long standby time of one year
Optional loop recording and audio
5.5 hour record time during daylight
Can use with power bank while recording
Pros and Cons
+
Very easy to use, auto night vision, motion detection, huge standby time of one year
–
No feature to remote view footage (WiFi), port cover could be improved.
Where to Buy?
Price updated – 3rd of November 2017 at 16:00 GMT
*Product prices and availability are accurate as of the date/time indicated and are subject to change.
Intro
I've had a lot of fun testing out this product. Although my temptation to push the boundaries of the laws that govern the use of spy cameras has been tested. In my mind, I had planned to use it to catch irresponsible dog owners leaving mess outside my child's school. I could easily do it without detection using this particular hidden camera. Unfortunately, with current laws, I wouldn't actually be able to do anything with the footage.
For those interested, here's what is legal:
Using it in the home to spy on others.
Hidden in the workplace to monitor staff.
Using spy cameras to protect yourself in most situations.
Fortunately, my back up plan also known as 'Operation Biscuit Tin' was perfectly legal and went off without a hitch.
Conbrov T19 Car Key Spy Camera – Full Review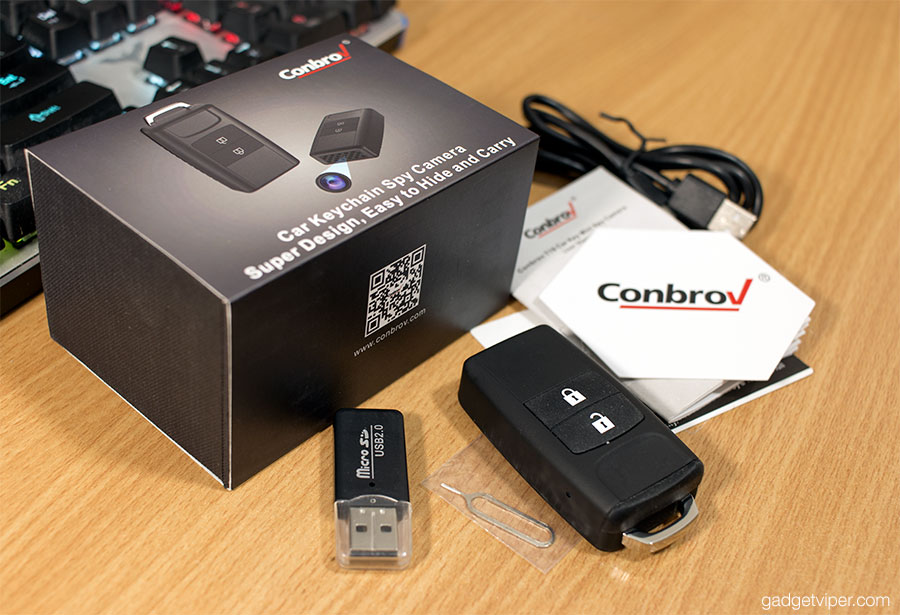 The T19 spy camera comes well packaged inside a presentable retail box. Inside the box, there's a USB charging cable, a MicroSD to USB converter, a reset pin, user guide and a warranty card.
Measuring 60 x 35 x 12mm and weighing under 50 grams, the Conbrov T19 is very similar in size to most regular car key fobs. The housing feels robust and it has a good quality matte black finish that's pleasant to handle.
As long as you've taken the time to ensure the cover is neatly returned into place, it shouldn't be a problem. However, a rigid cover that snaps into place would seem more reliable and far less likely to be discovered upon inspection.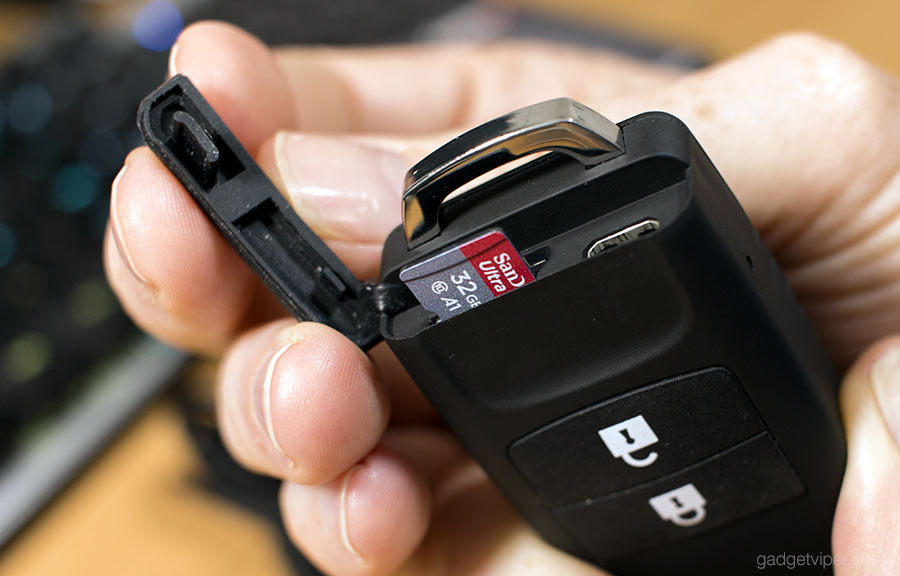 Inside the cover, there's the micro USB charging port, a small LED status light, an audio toggle switch and a MicroSD card slot. The T19 spy camera will work with SD cards up to 32gbs in size.
How to use the Conbrov T19 Spy Camera
It's ridiculously simple. There are just two buttons, one with a closed padlock and the other has an unlock symbol. To record continuous footage simply hold the closed padlock button down for a few seconds. This will turn the spy camera on and begin recording, another press of the same button will stop the recording. To activate the motion detection mode, simply press the unlock button to turn it on, and once again to stop it.
Specifications and Features
| | | | | | | |
| --- | --- | --- | --- | --- | --- | --- |
| 720p / 60°Angle | 800mAh | 2h | Day 5.5h /Night 2h | 4m | 5m / 45° Angle | 1 Year |
Loop Recording – The T19 is set to loop record by default, this means that when the SD card is full it will automatically replace the oldest footage. To prevent this, you need to edit a text file on the SD card called 'SETTIME.txt' by replacing the 'YES' after the time and date to 'NO'.
Night Vision – This will happen automatically when the light level drops too low for regular recording.
Long Motion Detection Standby – Conbrov state that the T19 Spy Camera will last for a whole year in motion detection mode. If you happen to be waiting for an extremely rare occurrence, this could be a very handy feature.
Recording with an external power source – If you want to extend the record time, the T19 Spy camera can record while plugged into an external power source. By using a small portable Power Bank you could significantly extend its capacity.
While in motion detection mode, there is a small red light that remains on. This is only visible when the port cover is open. From the front, there is absolutely no indication that device is on or recording footage.
Using audio with the Conbrov T19 Spy Camera
Due to regulations regarding the recording of private conversations, spy cameras are typically sold without audio capability.
The T19 conforms to this rule, however, if you intend to use the product inside your own property or in areas where the law allows it, the sound can be easily implemented with a simple firmware upgrade.
There's a download link to a bin.file on the product page. You just need to load it on to the SD card and it will automatically update the firmware. Once complete, re-format the SD card and the audio should work. You can then toggle the sound on and off with a small switch underneath the port cover.
If you'd like to hear what the sound quality is like here's some footage I recorded with audio turned on.
Verdict
The Conbrov T19 Key Fob Spy Camera is well designed and extremely easy to use. It's small and light enough to have on my keychain, should I ever need to make use of it in the future – for legal purposes of course.
If I were able to suggest improvements to the product, I'd replace the rubber port cover with a rigid plastic one that clips securely into place. I'd also like to be able to remote view the footage from my phone using an app to ensure the camera's positioned correctly. It would also be nice to see the recording status, check the battery level and the remaining space on the memory card. That being said, this could end up overcomplicating what is currently a simple to use and reliable mini surveillance gadget.
Where to Buy?
Price updated – 3rd of November 2017 at 16:00 GMT
*Product prices and availability are accurate as of the date/time indicated and are subject to change.
I hope you found this review useful, if you did please share it socially and if you enjoyed my YouTube video then please
subscribe
to the channel – Thanks!
If you're planning on buying one for yourself, don't forget to use the coupon code conbrovt19 for an additional 10% discount.