The Anker 60W 6 Port USB charging station is the latest charging device from Anker which uses their unique PowerIQ amp-adjustment technology.  Put simply, this USB hub will automatically detect your devices maximum charge to give you the fastest possible recharge speed no matter what port you use.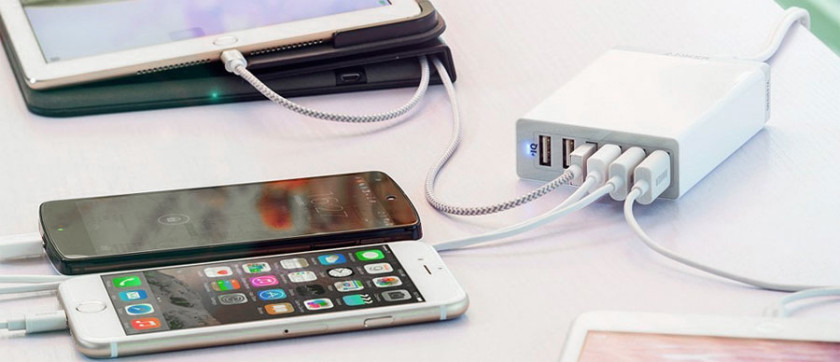 The Design
The Anker 60W 6 Port charging station is extremely compact considering it has 6 USB ports, even smaller than some 4 port USB hubs I've previously tested.  The device which is available in black or white is approximately the size of a full deck of playing cards.  The build quality is solid, as I have learned to expect from the other Anker charging products I've got my hands on.
There are 2 distinctive elements on this particular charging station that I think represent a well thought out design with a clear consideration of the end user in mind.
The blue LED indicator light – So many products I've seen, especially charging stations and powered USB hubs typically have some ridiculously bright LED light that just ends up annoying the hell out of you, especially if the device happens to be in the room you are sleeping in.  This Anker charging station has one of the softest LED lights I've seen on a device, meaning I can happily have the USB hub directly next to my bed without interruption.
The Power Cord – The Anker 60W 6 Port charging station has it's own power cord much the same as many other powered USB hubs.  The distinction between the Anker charger's cord and many others is the length.  At over 5 feet long, I am able to place the charging station pretty much where I please without being constrained by a short cord or having the need to use an additional extension cable.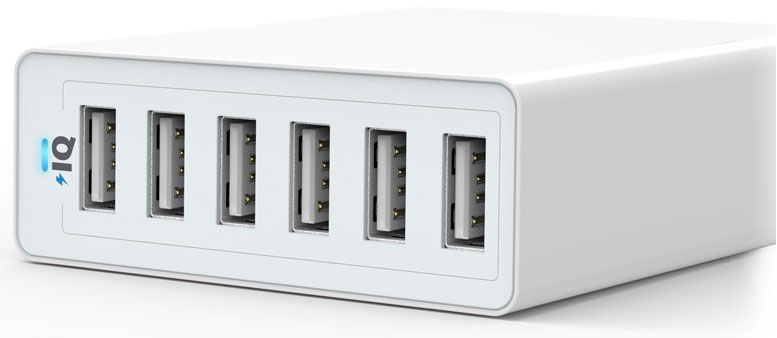 The Features
Fastest Charging – As previously mentioned the Anker 60W 6 port charging station has the unique PowerIQ technology, this really is a super handy feature to have on a hub.  Being able to safely maximise the amps to your device can have a significant impact on the charge times.  As an example, an Apple iPad could potentially charge over 5 hours faster by using the Anker charging station rather than a regular charging port.  The charge times of most smartphones like the iPhone 6 and the Galaxy S5 will also see improvements of between 1.5 and 2 hours.
6 Devices at a time – We may not all have the need to charge 6 devices at a time especially if you live alone.  However, if you consider the number of devices requiring a daily charge even for a small family, I can easily picture all 6 ports being used. The Anker charging station can output a total of 12 amps which means there should be no noticeable impact from simultaneously charging 6 devices at a time even if they happen to all be iPads.
Additional features – The Anker Powered USB hub also comes with an extended 18-month warranty and a handy Velcro retaining strip, should you wish to secure the charging station on a surface.
The Price
The Anker 60W 6 Port Charging station is avaiable on amazon at a very reasonable price of only $35.99 (28% off)