Bozlun B15P Smart Band
An affordable fitness tracker packed with features including a blood pressure monitor. The Bozlun B15P Smart Band syncs to the H-Band Smartphone app to track heart rate, steps, sleep quality, calories burned and blood pressure.
Highlights
Heart Rate and Blood Pressure Monitoring
Touch Screen display with time and date
Vibrating alert for calls and messages
Accurate pedometer with distance traveled
On-screen caller ID and message display
Pros and Cons
+
Very lightweight (21g) responsive and accurate, good smartphone app, good value for money.
–
battery life of 3 days, not fully waterproof (IP67)
Where to Buy?
Price updated – 23rd of March 2017 at 10:15 GMT
*Product prices and availability are accurate as of the date/time indicated and are subject to change.
The Bozlun B15P Smart Band is as accurate and effective as the leading fitness bands but at a fraction of the cost.
Wearing the Bozlun B15P Smart Band for over a week has given me a real taste for data. I feel like I know myself a little better than I did before. It's clear to me that a good fitness band can have a really positive effect on a person's lifestyle choices. So, if you're looking to dip a toe (or wrist) into the world of smart wearables, this affordable fitness band could just be what you've been looking for. – Let's take a closer look.
2
Boslun B15P Smart Band – Full Review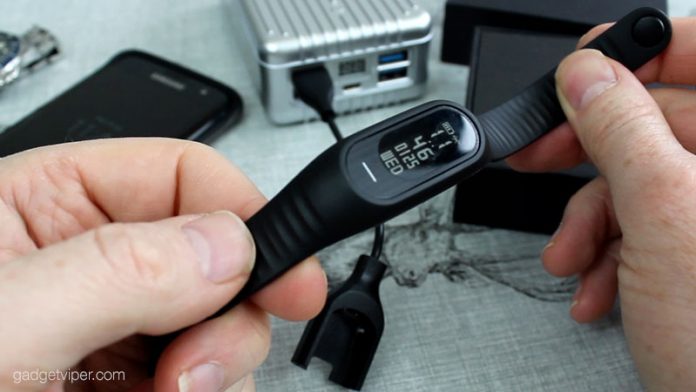 The Bozlun B15P Smart Band comes in a selection of colours. I chose the matte black version. Its design is relatively simple, the strap has a ribbed surface with a good amount of adjustment. The main unit fits into an opening from the rear and is retained safely when worn on the wrist.
It features an oval shaped display with a brushed metal-like finish. There is a touch sensitive area at the base, identified by a silver line.
You can easily cycle through and access the Smart Band features by tapping it lightly with a finger.
There is a small USB charging dock that comes included. This can be plugged into a 5V mains adapter, a USB port on a PC, or connected to a portable power bank. The B15P unit can be easily removed from the strap and inserted into the dock.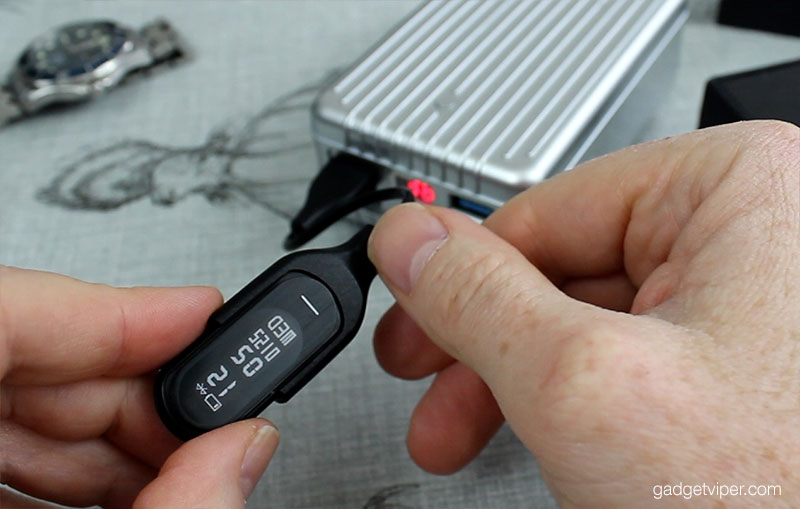 The Bozlun B15P is similar in appearance to the popular Mi Band 2 by Xiaomi. They are both small, extremely light, and comparable in price, yet the Bozlun B15P Smart Band is packed with far more features.
Features
Blood Pressure and Heart Rate Monitor
Pedometer and Calorie Counter
Sleep Tracker
Three Alarm Clocks – Vibration
Smartphone Proximity Alarm
Caller ID and Message Alerts
Smartphone camera shutter control
Specifications
Bluetooth 4.0 Connectivity
IP65 Waterproof rating
15 Days Standby and 3 days battery life
Android and Apple Smartphone App
Compatible with WeRun app
Weight – 21 grams
Battery 80mAh with USB 5V charger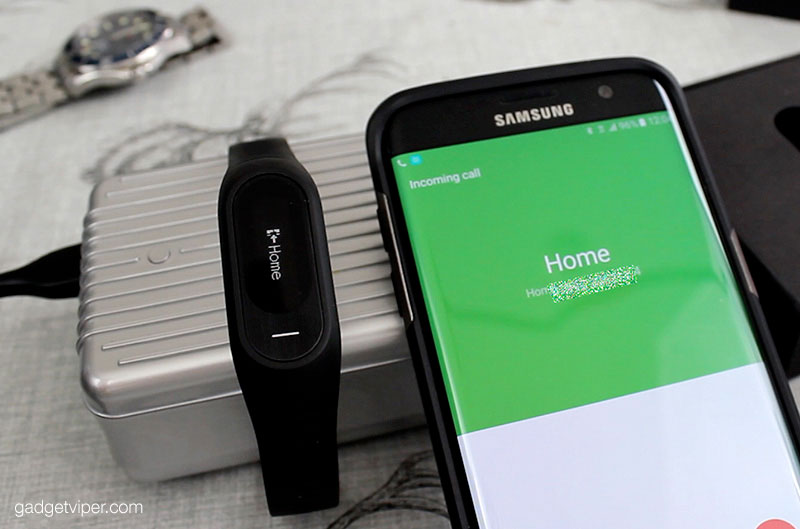 If you haven't already watched the YouTube Video I made to demonstrate the Bozlun B15P Smart Band, here's a link. All the features work exceptionally well.  I was able to compare the accuracy of the heart rate monitor, pedometer, and distance travelled against my Samsung Galaxy S7 Edge Smartphone. I found them all to be extremely accurate.
With regards to the Blood Pressure monitor, I was unable to compare it to an actual BP machine, so I cannot vouch for it just yet.
As my 40th birthday is only a couple of weeks away, I might get a chance to verify it's accuracy during a routine check-up with my GP.
H-Band SmartPhone App
The Bozlun B15P Smart Band pairs to the H-Band SmartPhone App. It's compatible with both Android and Apple devices and has worked flawlessly during my testing phase.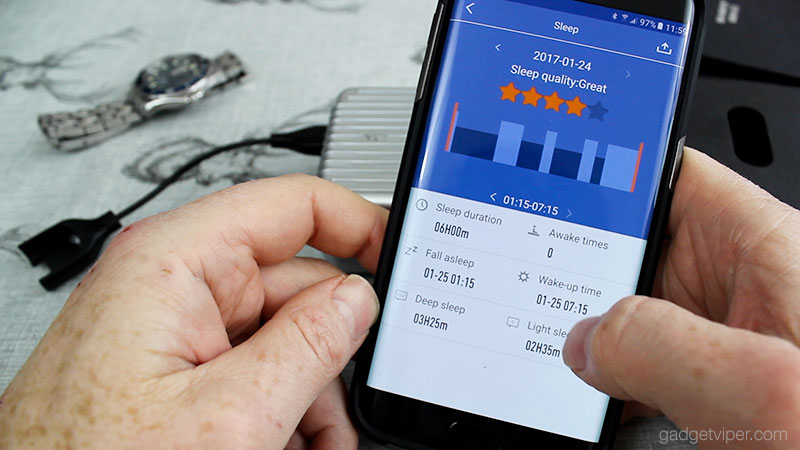 As far as fitness tracker apps go, this one has to be one of my favourites. It's extremely simple to set up and a pleasure to navigate through the dashboard. The Dashboard has four main sections: Step, Sleep, Heart Rate and Blood Pressure. Each can be clicked on to provide a more detailed breakdown of events during the day.
I have absolutely no reservations in recommending the Bozlun B15P Smart Band. It offers great value for money and is ideal as an entry level fitness tracker. That being said, I've only been using this unit for a week, so I can't speak of its longevity just yet. I do intend to keep wearing the device, so if I experience any issues in the future, I'll be sure to update the review and let you guys know about it.
Price updated – 23rd of March 2017 at 10:15 GMT
*Product prices and availability are accurate as of the date/time indicated and are subject to change.
If you found this review useful, please leave a comment below or share it socially and please
Subscribe
to the YouTube channel – Thanks!