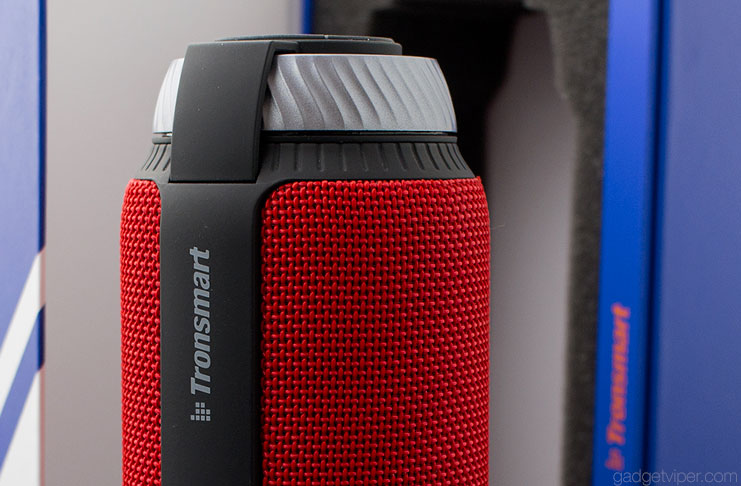 Tronsmart T6 Bluetooth Speaker
A cylindrically shaped Bluetooth speaker featuring a 360° surround sound.
The Tronsmart Element T6 has a downward facing passive subwoofer for a bass-rich sound and an impressive battery life of up to 15 hours.
Highlights
Bluetooth 4.1 and AUX playback
360° surround sound
15 Hour Battery Life (52000mAh)
25W of power with DSP technology
Dial volume control
18 Month Warranty
Pros and Cons
+
Great battery life, solid build quality, good volume, easy volume adjustment
–
The Bass is amazing at low volume but can be overpowering at mid to high volume levels
Where to Buy?
Price updated – 2nd of August 2017 at 14.51 GMT
*Product prices and availability are accurate as of the date/time indicated and are subject to change.
The Tronsmart T6 is a Bluetooth speaker for those that enjoy a bass-rich sound experience.
Unboxing the Tronsmart T6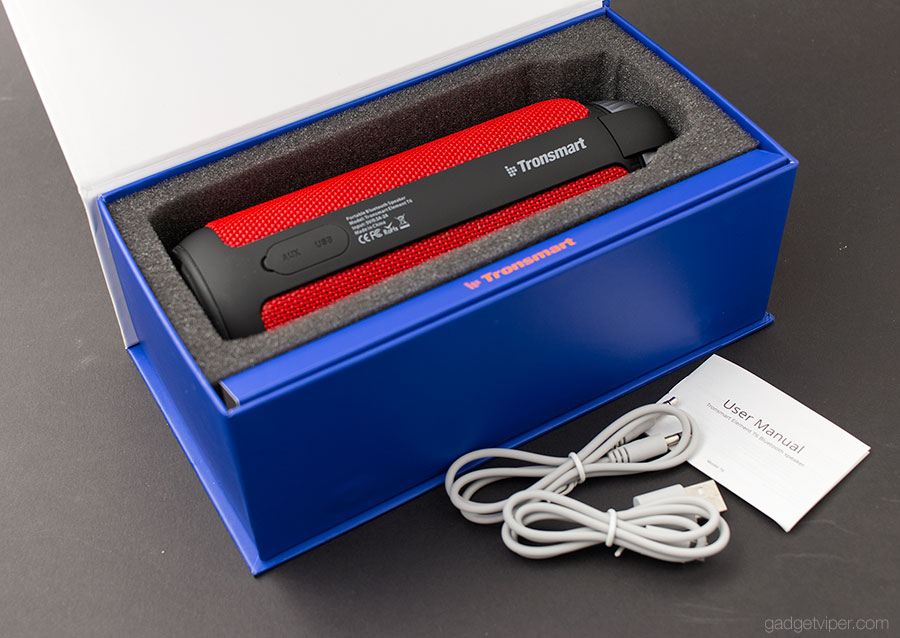 Tronsmart do a great job presenting their products. The Element T6 comes in a retail box featuring a magnetic flip lid. Inside, along with the speaker is a USB charging cable, a phono lead for AUX connections and a tiny user manual.
If I'm going to be a whinge bag here (which I am) I'd recommend Tronsmart print their manuals in a larger font. Yes, I'm getting old, but I'm not quite ready to buy a magnifying glass to read with!
It reminds me of a scene from Zoolander when Derek demands the 'Centre for Kids that can't read good' be made at least three times bigger.
Design and Build Quality
At 545 grams (19oz), the Tronsmart T6 feels reassuringly weighty. This is usually an indication of a good set of speaker drivers and/or a large internal battery. Standing just under 20cms tall with a diameter of 7.5cms, the T6 is roughly the same size as an 800ml bottle of water. This makes it ideal for the side pockets of backpacks or the bottle holder on a bicycle.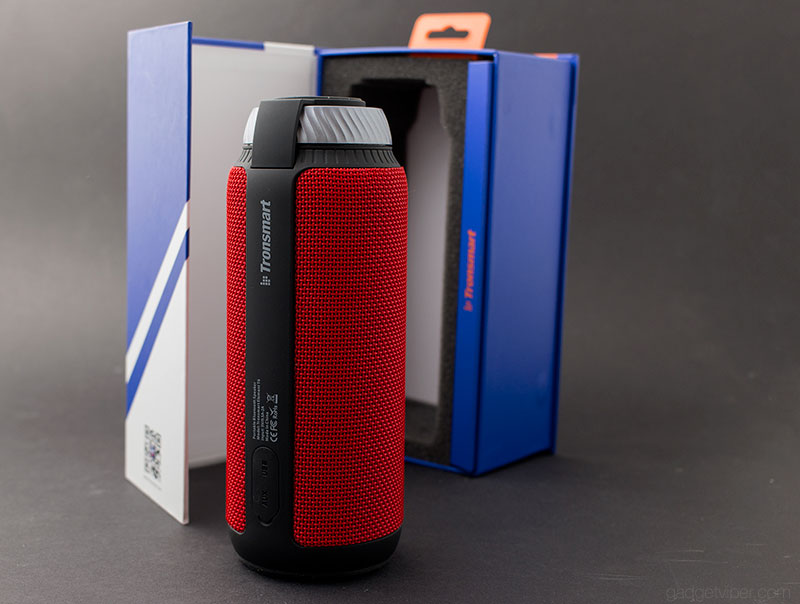 The main body of the speaker features a tightly woven mesh. My unit is red, but it does also come in black if you'd prefer a less colourful option.
It features a single spine on one side which has an access cover for the micro USB charging port and AUX-in socket.
The spine adds a nice detail to the speaker, however, I'd have liked it to have a flat edge. This would have given the additional option of resting the speaker on its side (similar to the JBL Flip 4) without it wanting to roll itself off the table.
Around the top of the speaker is a light grey contoured dial that rotates to control the volume level. I really like this functionality, it's so much better than having to tap a button. I'm always pleased to see a separation between track selection and volume control on a Bluetooth speaker. The Tronsmart T6 has that covered along with an independent hands-free call button, which is typically integrated with the play/pause on most other units.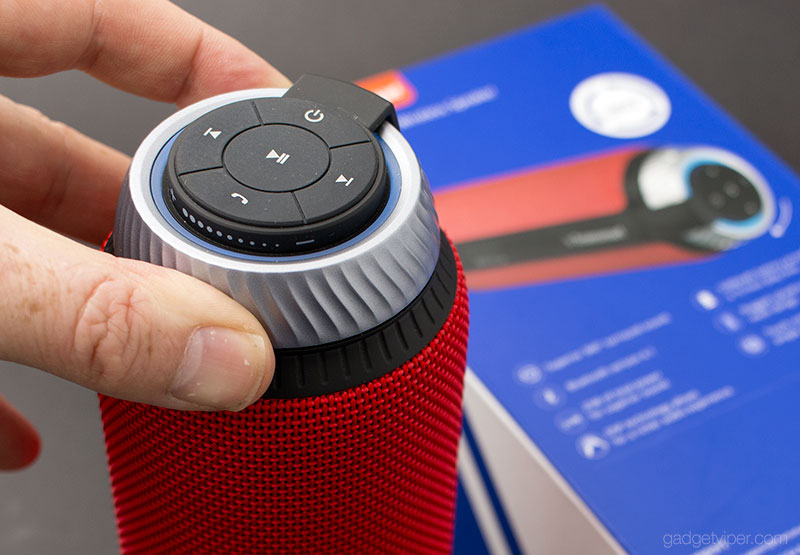 Features and Specifications
Between the button and the volume dial, the T6 has a coloured ring to represent the status of the speaker. Bluetooth is the default play mode, however, the Tronsmart T6 will automatically switch to AUX when a phono lead is connected. You can then toggle between Bluetooth and AUX mode by tapping the power button.
| | | | | |
| --- | --- | --- | --- | --- |
| Pairing Mode | Paired | Low Battery | Charging | Fully Charged / AUX mode |
With Bluetooth 4.1 the T6 will hold a reliable connection up to a range of 10m (33 feet). I've been using it for almost a month now and I cannot recall hearing a single drop in signal.
It also has an impressive battery life. As always, I've struggled to keep an accurate log of time during testing. I'd say it's been between 12-15 hours depending on the volume levels.
I'm forever forgetting to power off Bluetooth speakers, fortunately, the Tronsmart T6 has an auto-off that takes care of it for me after about 10 minutes of inactivity. Recharging takes around 3 hours from a USB mains adapter or charging station.
Sound and Performance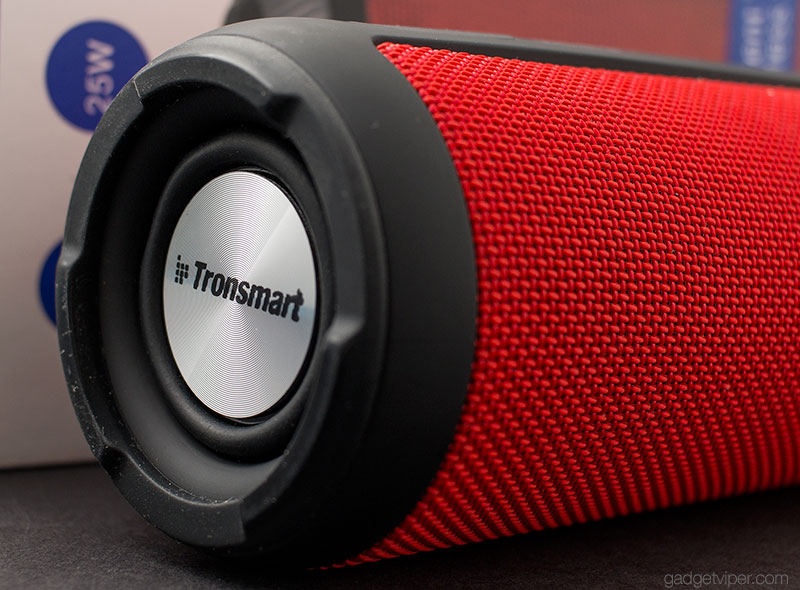 The Tronsmart T6 has two 12.5W speaker drivers hidden under the mesh. Each one is on opposite sides for a 360° surround sound, although I've found that having the black spine facing forwards seems to be the optimal position.
It has an impressive volume for a speaker of its size with very little in the way of distortion, even at maximum level. This is due to the built-in DSP technology which makes adjustments to the balance of sound as the volume changes.
On the underside of the T6 is a downward facing passive subwoofer that really pumps out a big low-end. At low to moderate volume, the bass is perfect in my opinion. As the volume increases, the bass can become a little overwhelming on certain tracks. If bass is your thing, no doubt you'll love it, but my personal taste favours a more natural audio balance.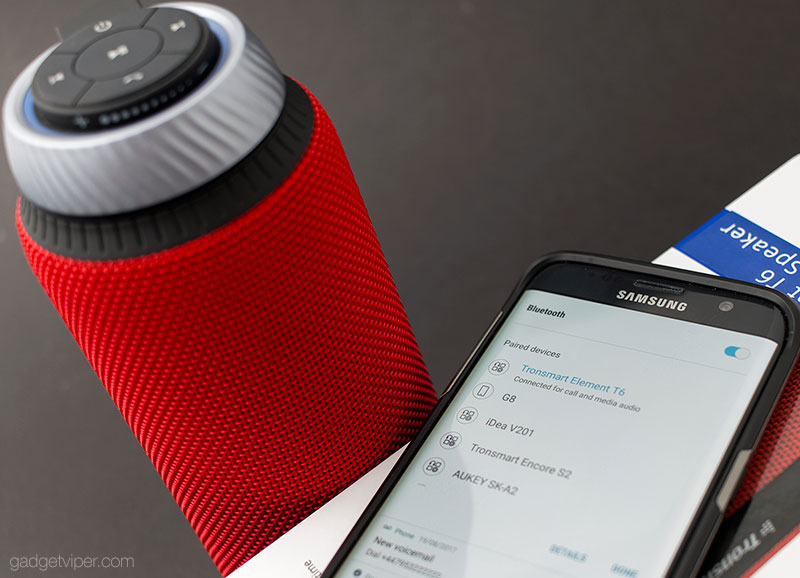 If you share a similar taste in sound to me, all is not lost. Most devices these days allow you to make equaliser adjustments. When I'm using my SONY Extra Bass Headphones I often nip into my phone settings and drop the low-end a little to compensate. I will probably do the same with the Tronsmart T6 if I'm listening to bass-heavy tracks.
Verdict
The Tronsmart T6 Bluetooth speaker is definitely good value for money. It's almost a third of the price of a JBL Flip 4.  While it doesn't have the IP-Rating, not everyone is fortunate enough to have a pool to splash around in. So, if you've been looking for an affordable yet powerful portable speaker with a solid battery life and you've no intention of taking it swimming, then the T6 could be ideal.
Where to Buy?
Price updated – 2nd of August 2017 at 14.51 GMT
*Product prices and availability are accurate as of the date/time indicated and are subject to change.
I hope you found this review useful, if you did, please leave a comment below or share it socially – Thanks!