The Rhino Shield is the latest and possibly greatest tempered glass screen protector for the iPhone or iPad. Made from a custom formulated polymer the Rhino Shield can be used on it's own or with any iPhone case. This is due to the Rhino Shield being ridiculously thin, only 0.029cm which is the thickness of just 3 sheets of paper.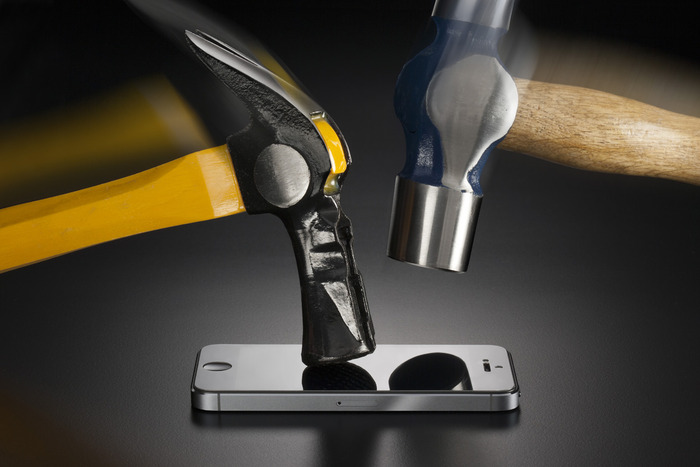 A  tempered glass screen protector with impact protection will typically be around 0.050cm- 0.070cm in thickness.  This can cause fitting issues with your iPhone's case and can effect the touch screen sensitivity.  The iPhone's power button will also feel a little recessed due to the thickness of most other screen protectors.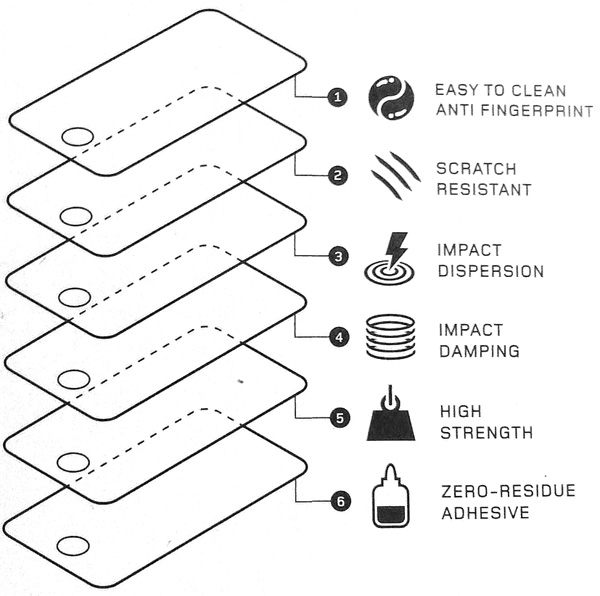 The Rhino shield is about as thin as you can possibly achieve unless you are only interested in protecting the screen from light scratches.  The screen protector is made from 6 individual layers to protect your iPhone from smears, scratches and impacts.
If you are convinced that the new iPhone and iPad's gorilla glass has enough strength and impact resistance without the need for an additional tempered glass screen protector, then you are probably one of the lucky few. For those who have seen their iPhones fall in slow motion, followed by the heartbreaking sound of the screen shattering will know that the iPhones gorilla glass is not pavement proof by any means. The Rhino Shield provides a massive 5 times more protection  Considering that it's only 3 sheets of paper in thickness, this is some achievement.
One of the major problems I have with a tempered glass screen protector is the ease of application. You literally need to have surgeon's hands to be able to successfully apply them squarely and without air bubbles. The Rhino Shield is probably the easiest of them all due to its unique adhesive.  Allowing you plenty of time to reposition and adjust the screen protector until it's exactly where it needs to be.  See the video demonstration below of how easy the Rhino Shield is to fit.


Best Buy on the Rhino Shield:
UK Customers
Currently the best place to buy a Rhino Shield in the UK  is Firebox  although it's worth checking at amazon.co.uk
, as it may eventually become cheaper from there.
For the iPad version of the Rhino Shield screen protector click here
US and Overseas customers:
For US and overseas customers please visit amazon.com
For those of you who are concerned about software protection for your iPhone or smartphones, read about the USB Condom