V203 AtomicX ANC Headphones
Foldable 'over the ear' Wireless headphones with Active Noise Cancelling technology to reduce ambient noise by up to 85%. Featuring hands-free calls, up to 16 hours playback via Bluetooth or an optional wired connection.
Highlights
ANC Active Noise Cancelling
Bluetooth 4.0 +EDC and AUX
Foldable arms and carry pouch
Up to 16 hours battery
Robust metal construction
Pros and Cons
+
Very comfortable, foldable, good quality balanced sound, active noise cancellation works great.
–
The durable metal construction does add some extra weight to the headphones.
Where to Buy?
Price updated – 28th September 2016 at 15:30 GMT
*Product prices and availability are accurate as of the date/time indicated and are subject to change.
The comfortable 'over the ear' design and ANC make these headphones ideal for travelling or for long periods of use.
Design
The AtomicX Active Noise Cancelling Wireless Headphones come in a good quality retail box featuring a magnetic closure lid. Inside there's the V203 headphones, a USB charging cable, AUX cable, airline adapter, carry pouch and a user guide.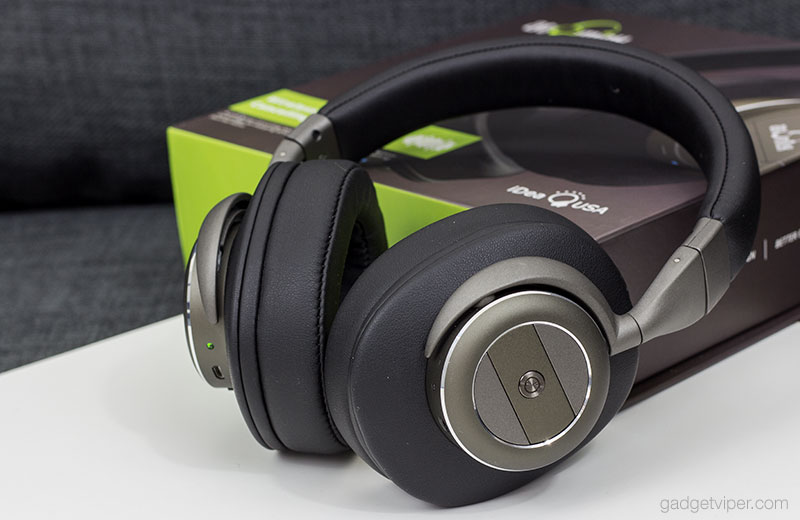 AtomicX V203's are made mostly from metal which has a really attractive sandblasted finish. Featuring swivelling earcups and hinged arms that snap in place, these headphones fold to a compact size for storage.
The earcups are made from a soft-touch leather stitched neatly over a one-inch thick memory foam. The combination of soft padding, rotating cups and the 'over-ear' design make these headphones one of the most comfortable sets I've worn. I have no doubt I could wear these all day without any discomfort.
Features
Active Noise Cancelling (ANC)
The ANC on the V203 headphones work exceptionally well and seem to have the added bonus of enhancing the richness of the soundstage. It's activated with a switch on the left earpiece. When on, there is a very slight hiss sound, although It's barely noticeable unless you're in complete silence. It works by monitoring the surrounding noise and produces a sound wave to cancel it out.  Engines, fan noise and low hums are almost completely removed while voices can still be heard clearly.
Bluetooth Performance
The AtomicX headphones feature Bluetooth 4.0 with EDC (Efficient Double-Cycle). Its range is 10m (33 feet) unobstructed and Bluetooth signal proved very reliable during testing. I actually paired these with a Bluetooth transmitter plugged into my television and watched a movie. I had expected to see a latency delay between the video and the audio but was pleasantly surprised to see an almost perfect sync.
| | | |
| --- | --- | --- |
| 4.0 +EDC | 10m (33 feet) | A2DP / AVR CP / HSP / HFP |
Controls and Functions
The manual controls are found on the right earpiece. A central power button and two clickable sections above and below for volume and track skipping. All three buttons are flush with the surface and are well integrated with the design.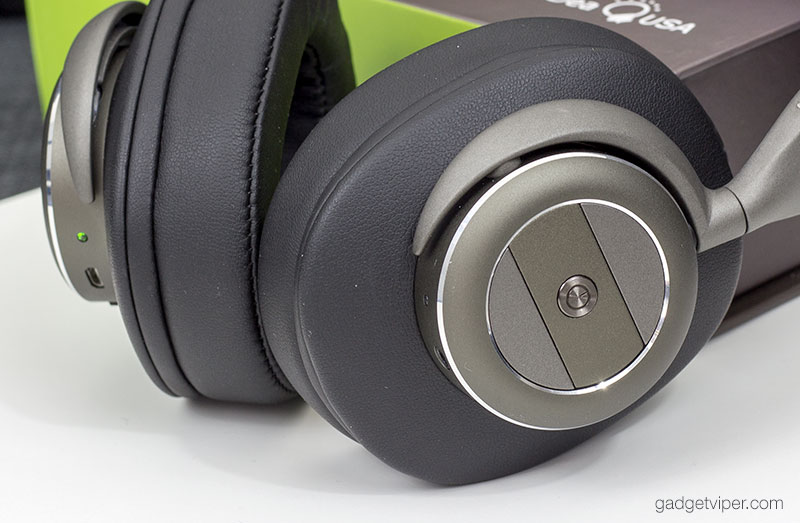 | | | | |
| --- | --- | --- | --- |
| 16 Hours | 8 Hours | 250 Hours | 2 Hours |
Audio Performance
As previously mentioned there is a slight difference in the audio signature when you toggle the active noise cancelling on and off. Both sound great, but I slightly favour the audio with the ANC on. The sound is a little warmer around the mids. The overall quality is very well balanced and clean throughout the volume range.
Verdict
The AtomicX active noise-cancelling wireless headphones really have a lot going for them. They're extremely comfortable, have a great battery life and an impressive sound quality. The ANC, folding arms and carry case make them ideal for travelling and their metal construction should ensure lasting durability.
If you commute to work on a noisy train or sit in an office full of whirring fans and AC units, these headphones could make a huge difference. Anyone looking for an affordable set of noise-cancelling headphones should definitely check them out.
Price updated – 28th September 2016 at 15:30 GMT
*Product prices and availability are accurate as of the date/time indicated and are subject to change.
I hope you found the review useful. If you did, please share it socially or leave a comment below and if you enjoyed the video, please subscribe to our YouTube channel.