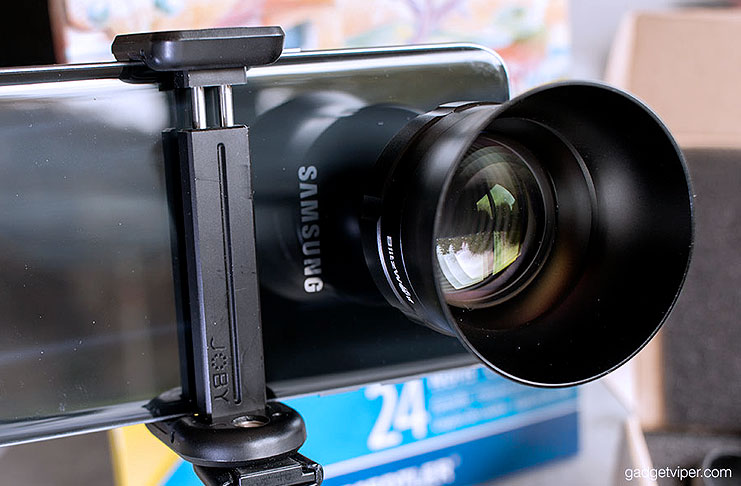 BW-LS4 Smartphone Telephoto Lens
Most of us use our Smartphones as our day to day cameras. With image quality comparable to most mid-range digital cameras, it's an obvious choice to make. The only downside is the lack of an optical zoom.
The Blitzwolf BW-LS4 Smartphone Telephoto Lens allows you to get those close-up shots you've been missing out on.
Highlights
3x Telephoto lens made from Germany Schott HD glass
Includes a Lens hood to prevent flare and improve contrast
Universal Clip – compatible with all iPhones and Smartphones
Comes with Lens caps and a waterproof carry pouch
18-Month Warranty
Pros and Cons
+
Universal clip comfortably fits all smartphones and iPhone models. Ideal for distance shots where you can't get closer to the subject.
–
The outer areas are unfocused with vignetting that will require cropping out (see examples below)
Where to Buy?
Price updated – 8th of November 2017 at 18:00 GMT
*Product prices and availability are accurate as of the date/time indicated and are subject to change.
The universal clip has miles of clearance, making is suitable for all SmartPhone and iPhone models.
What's In the Box?

The Blitzwolf BW-LS4 Smartphone Telephoto lens comes well protected inside a plain box lined with foam. Along with the lens, there's an aluminium hood, a universal smartphone clip, cleaning cloth, a carry pouch and a user manual.
Design and Build Quality

The Telephoto lens comes with two plastic covers that fit snugly to protect the glass when disassembled from the clip and hood.
The included carry pouch is also waterproof, unfortunately, it's not quite big enough to fit the hood inside as well.
You can use the lens without the hood attached. However, if you plan on taking shots outside on a bright day (as I did), then I highly recommend bringing it along. It will just slip nicely over the pouch when not in use.
The lens housing and hood are both made from Aluminum-magnesium alloy, with a black anodized finish. With well-machined CNC threads, these two components fit together with precision.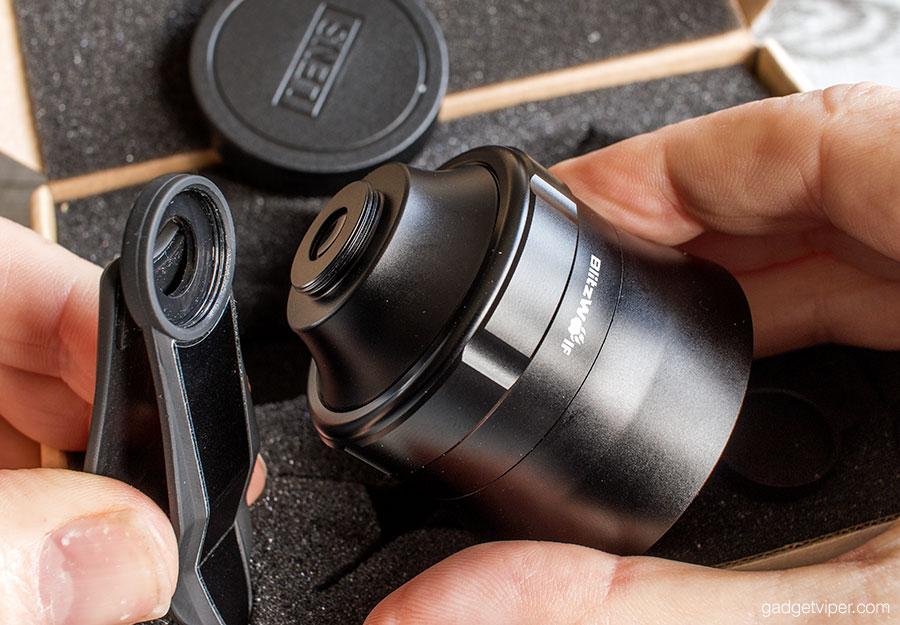 The universal clip isn't made of the same material. As a result, you'll have a metal thread screwing against a plastic one. As long as care is taken to ensure you tighten without cross threading, then it shouldn't be a major problem.
The clip has good tension and a huge amount of clearance, so you'll have no problem at all reaching the lens on any smartphone or iPhone model.
The optics inside are made by Schott HD glass in Germany. It features multiple coatings to enhance the picture quality.
Performace and Sample Shots
I tested the BW-LS4 using my Samsung Galaxy S7 Edge. To give you an idea of the difference in magnification, here is a picture of my phone with and without the lens attached. As you can see, it gets you considerably closer to the subject.

A Smartphone telephoto lens really isn't that necessary for taking close-up shots like this. I could just as easily have moved my phone nearer to the subject. It's far more useful for landscape photography, especially with the hood attached.
It became clear during testing that the outer portion of the shot was out of focus. There was also a visible vignette on the corners. Apparently, this is to be expected with this type of lens and it's the central portion of the shot that's important. For those hoping to retain clarity right to the extents of the picture, I'm afraid you're likely to be disappointed.

The square border I've added to the shot above shows at what point the quality of the image starts to degrade on my S7 Edge. However, when looking closer at the level of detail within the central section, there is a notable improvement.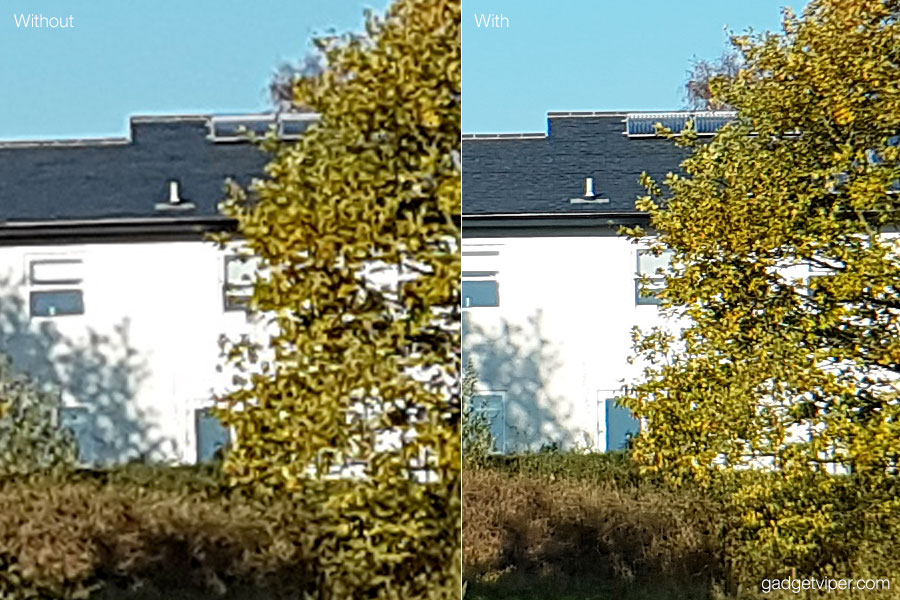 If you happen to be taking a shot of wildlife in the distance, or of a subject that you can't physically get any closer to, then it's great. You just need to discard the rule of thirds and make sure your subject is in the centre at all times.
Verdict
The Blitzwolf BW-LS4 has an impressive build quality and will fit any smartphone with ease.  The clip feels sturdy and the hood works well to prevent unwanted light hitting the lens. While it does a great job of enhancing the central area of the image, I would've liked to have seen a greater portion of the shot remain in focus. This may be less of an issue on other phone models. I plan on testing it with a variety of devices over the coming weeks so I'll keep you posted.
Where to Buy?
Price updated – 8th of November 2017 at 18:00 GMT
*Product prices and availability are accurate as of the date/time indicated and are subject to change.
I hope you found this review useful, if you did, please leave a comment below or share it socially, thanks!
To find out more about Blitzwolf and their range of products, visit their website here.