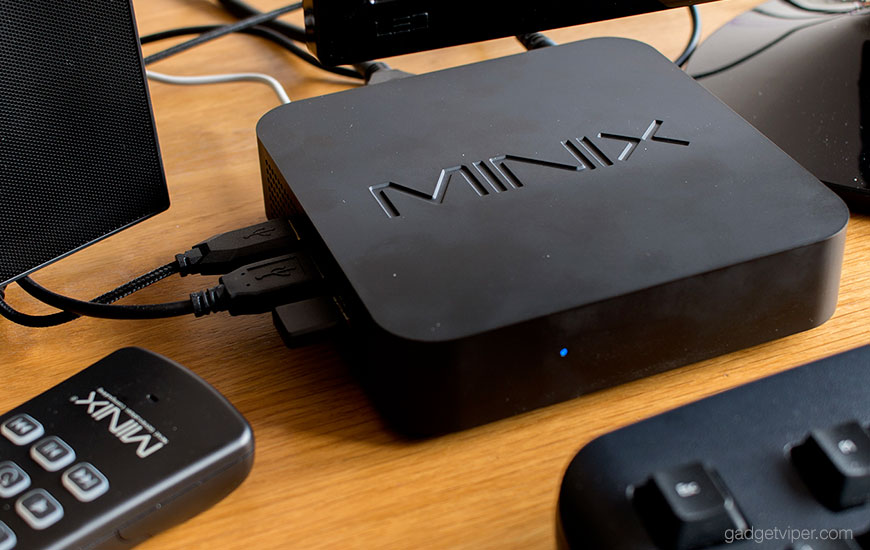 MINIX Neo N42C-4 Mini PC – Overview
There are very few Mini PC's on the market which offer as many features and options at such a low price. Minix has built a strong reputation for performance and reliability. Their latest Mini PC comes pre-installed with a Windows 10 Pro operating system and a very respectable list of hardware components.
The MINIX Neo N42C-4 ships with a built-in storage capacity of 32GB and 4GB of RAM. This allows it to come with a Windows 10 Pro licence which would typically set you back a whopping $199 if bought separately. But let's face it, 32GB's is only just enough space for the operating system after a few updates. Fortunately, you can beef this up to an impressive 512GB of Internal Storage and 16GB of memory! 
So with a little effort on your part, you can set yourself up with a super quiet, low power consuming, ultra-small mini-PC that's ideal for office use or as a multi-media entertainment system for your TV.
Read our full review of the MINIX Neo N42C-4 including everything you need to know about expanding the memory and storage to get the best from this amazing Mini PC.
Price and Availability
Mini PC Model
Minix NEO N42C-4 Windows 10 Pro Mini PC
Inside the box
VESA compatible mount, HDMI cable, Universal Mains Adapter, optional SSD and RAM expansion.
*Price last updated on the 12th of July 2019 at 09:00 am GMT
Product prices and availability are accurate as of the date/time indicated and are subject to change. Any price and availability information displayed on Amazon at the time of purchase will apply to this product.
Minix Neo N42C-4 Full Review
Unboxing the Minix Neo N42C-4 Mini PC and Accessories
As mentioned above in the overview, it's a wise decision to grab some extra storage and memory along with the Mini PC. You may already have some kicking around from an old laptop, alternatively, you can grab some additions from Minix as add-ons to your order.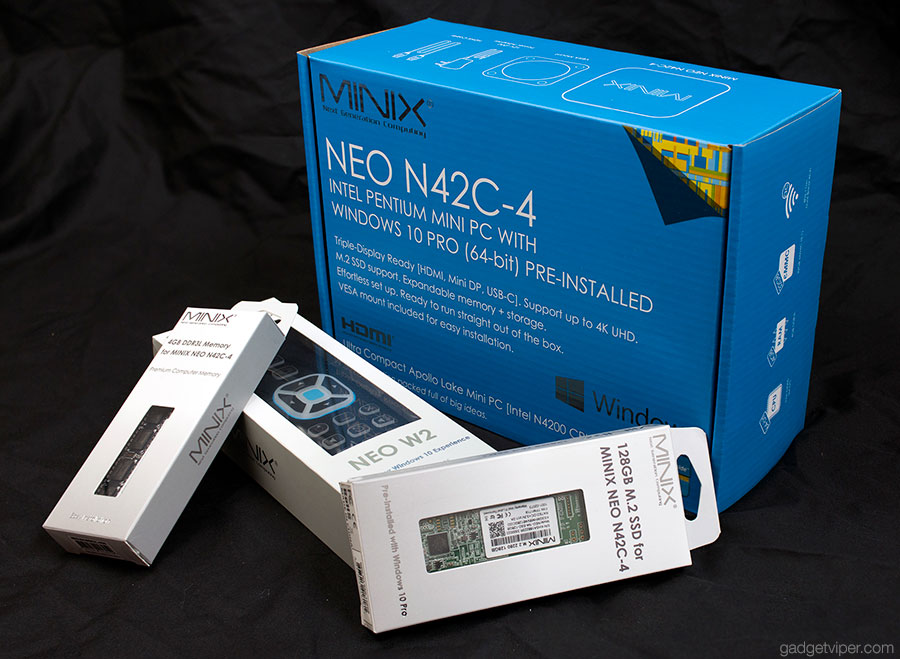 For those looking to buy compatible storage, you're looking for a 2280 M.2 SATA III Internal SSD. There are two RAM slots, that take DDR3 (SODIMM) memory.  For a list of SSD's and RAM that have been tried and tested inside the Neo N42C-4 Mini PC, check out Minix's forum post here.
In The Box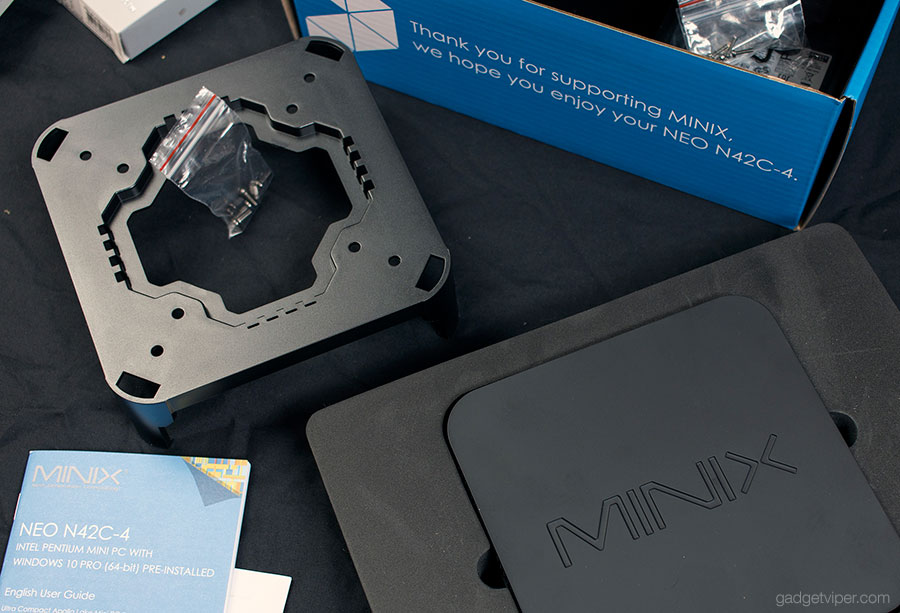 The Mini PC is well protected in a close-fitting foam panel. It comes with a VESA compatible mount, fitting screws, HDMI cable, a universal power adapter and a pin that cleverly fits in the 3.5mm AUX port to convert it to an optical output.
The mains adapter that powers the Mini PC comes with multiple connection options depending on your location. There are 2-pin adapters for US and Europe and a 3-Pin adapter for UK power supplies.
It can also be powered via the Type-C USB port for those with a compatible monitor or a nearby USB hub.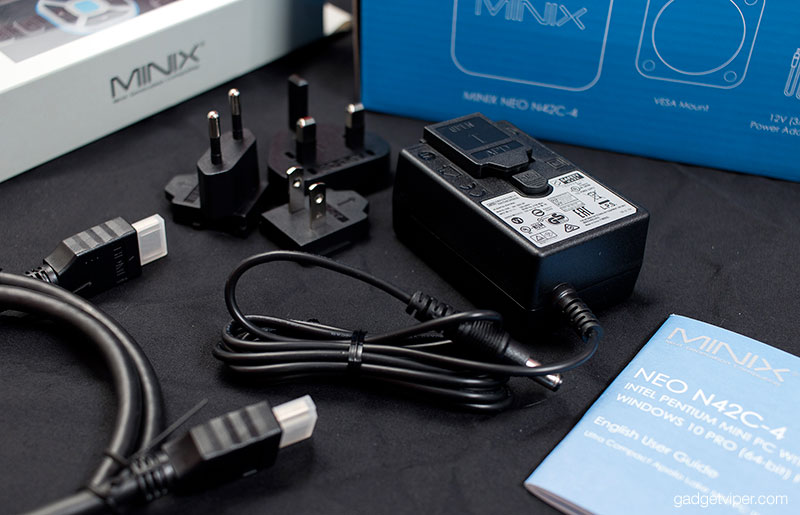 Design and Build Quality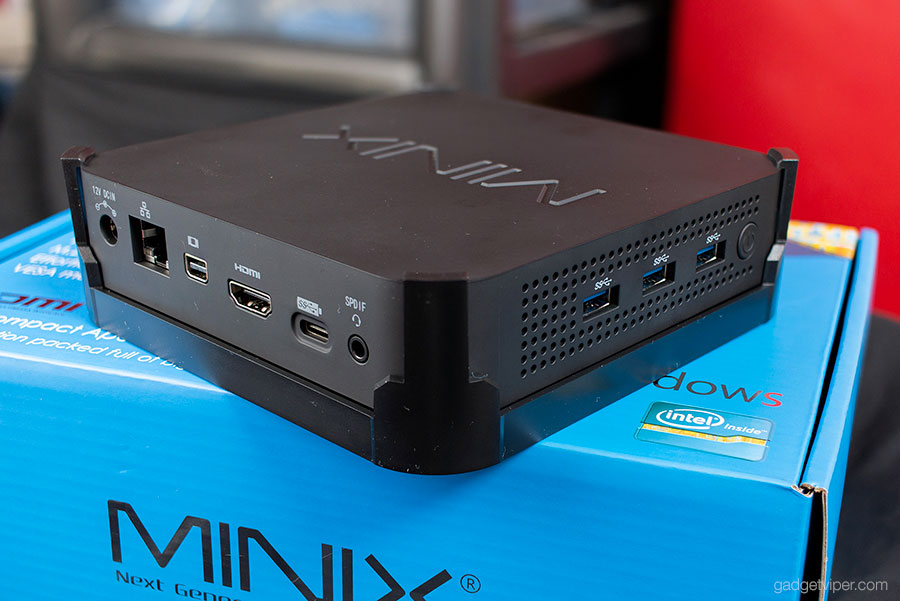 Measuring just 139x139x30mm the NEO N42C-4 is unbelievably compact. The housing is made from plastic which has a pleasant sandblasted finish. The top surface features a large MINIX logo and there's a single power button on the side along with a small LED power indicator light. Its rounded edges allow it to clip securely into the VESA mount.  Alternatively, it can sit neatly on a desktop thanks to its clean minimalistic design and of course its tiny footprint.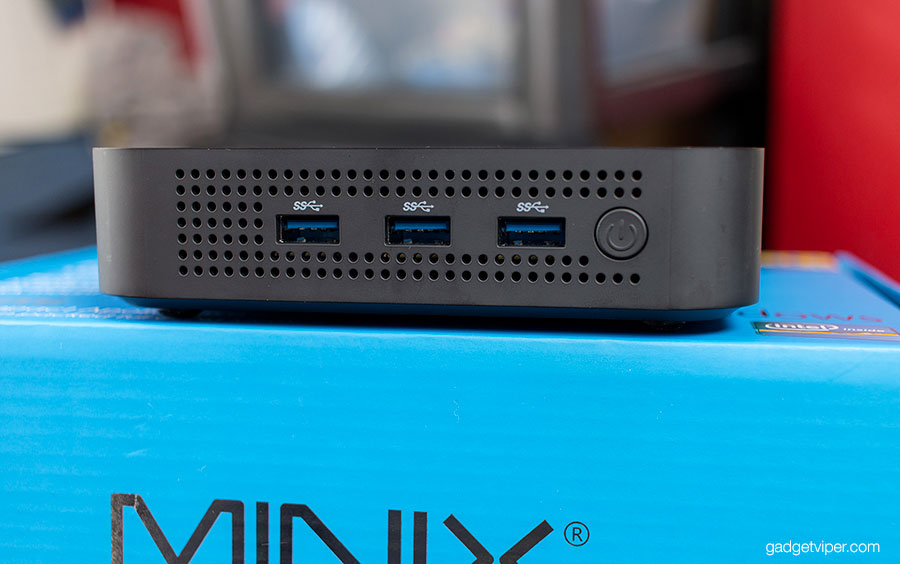 Now, let's take a look at the ports. On the left side, there's a row of three USB 3.0 ports surrounded by perforated holes for airflow. Around the back, we have a 12V DC input, a gigabit ethernet port, a mini display port, HDMI 1.4, a type-C USB, and a 3.5 Audio jack.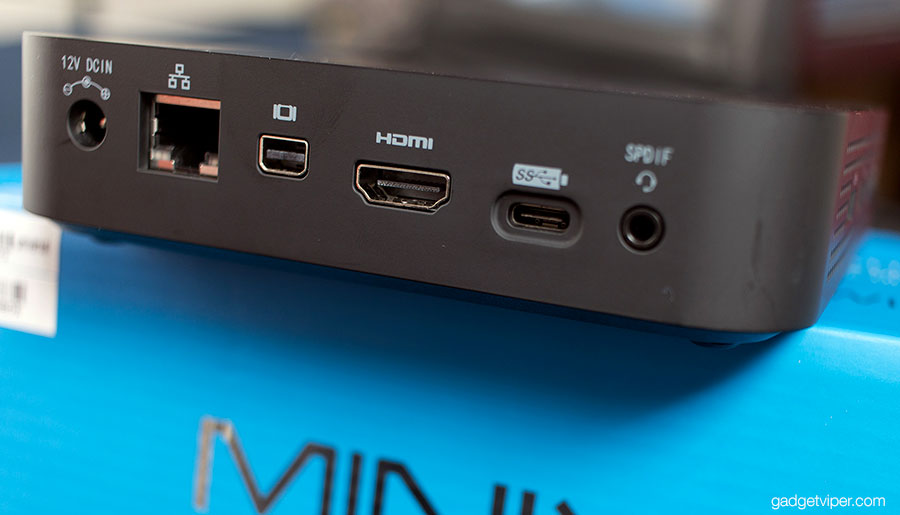 Specification
| | | |
| --- | --- | --- |
| Processor | GPU | Memory |
| Intel Pentium N4200 (64-bit) | Intel HD Graphics 505 | 4GB DDR3L (max 16GB) |
| Memory Slot | Storage | Storage Expansion |
| 2 x SODIMM slot, dual channel support (2X8GB) | Built-in 32GB eMMC 5.1 (MLC) | 1 x 2280 M.2 slot (SATA 6.0Gbps)(up to 512GB) |
| Wireless Connectivity | Bluetooth | Operating System |
| 802.11ac Dual-Band Wi-Fi | Bluetooth 4.1 | Windows 10 Pro (64-bit) |
| Video Outputs | Audio Output | Inputs |
| HDMI™ 1.4 (4K @ 30Hz), Mini DisplayPort (4K @ 60Hz), USB-C (4K @ 60Hz) | HDMI™ 1.4, 3.5mm AUX, Optical SPDIF | RJ-45 Gigabit Ethernet, 3xUSB 3.0, USB-Type-C |
Performance
The performance of this mini PC is based on it running off an SSD and with an extra 4GB's of RAM (8GB total). In retrospect, I should have delayed the upgrade to road test the Neo N42C-4 with it using the in-built 32GB of flash memory and with the standard 4GB of RAM. From the research I've done, there are significant improvements. Here's a benchmark test someone carried out before and after upgrading the storage and memory.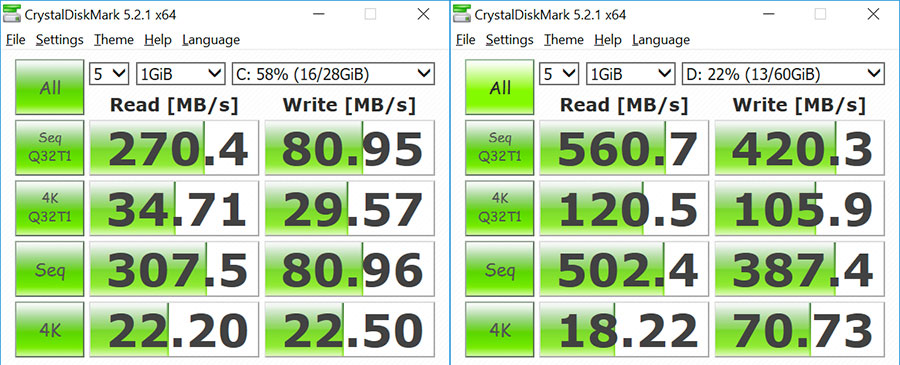 As you can see from above, it's well worth the time and effort to carry out the upgrade.
Once the extra storage and memory are installed (I'll explain how later) The Minix Neo N42C-4 will fully boot Windows 10 Pro in just over 30 seconds and will comfortably run most programs with ease. I've installed Windows Office 365, Adobe Photoshop, and some movie streaming software for the kids.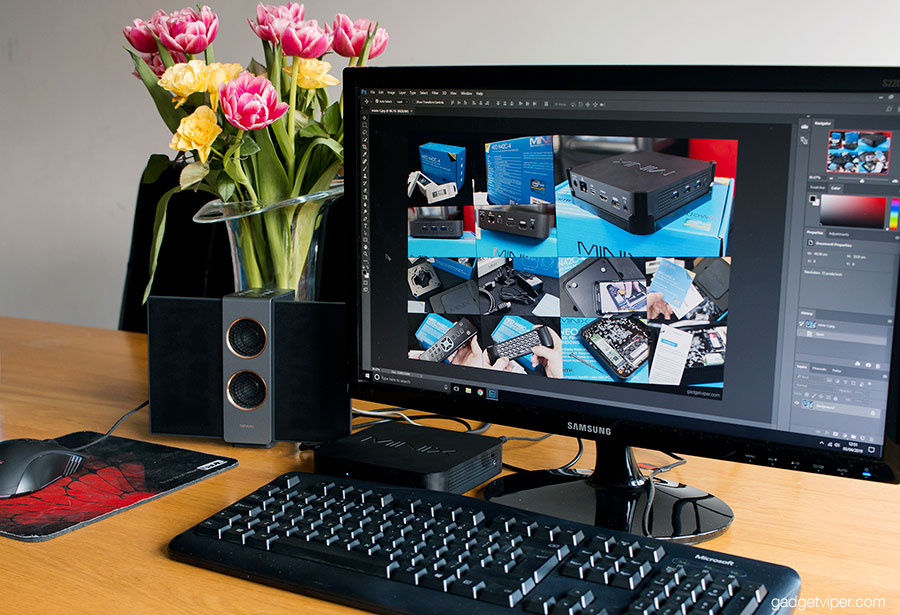 The Minix Internet access is connected via the in-built 802.11ac WiFi. With it being located approximately 8m from our Broadband router, we are getting a surprisingly good download and upload speed.  The kids have been able to stream 1080p movies over WiFi and download numerous games from their Steam account.
Despite my efforts to explain that it's NOT a gaming PC, the boys have been cherry picking some less graphics intensive games such as Roblox, Minecraft (vanilla), Terraria and The Amazing Frog.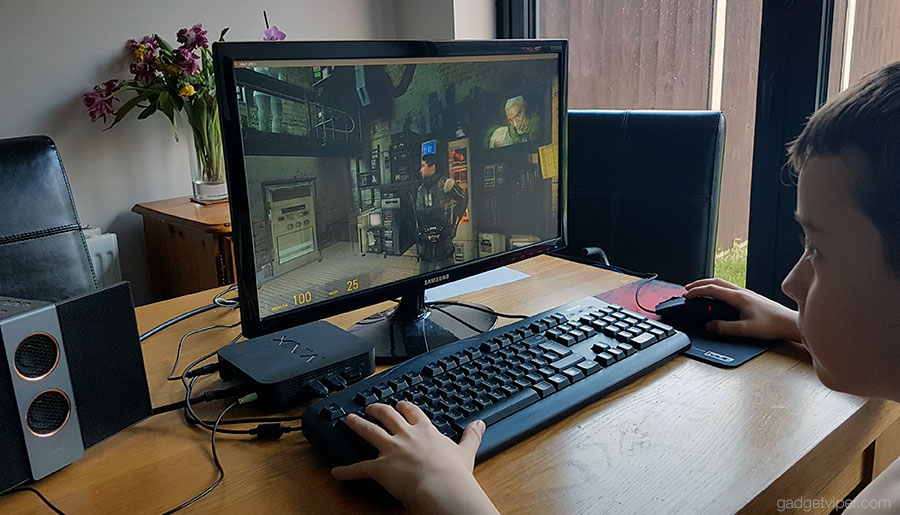 Yesterday I checked on my 9-year-old and found him playing Half-Life 2 (The greatest PC game of all time). – Oh, how I loved that game and yes, I know it's ancient, but it's still a special experience to behold. I played the 'daddy card' and kicked him off before the inside-out mutant dog creatures arrived!
The Neo N42C-4 has been set up for over three weeks and with the boys on their half-term holiday, it's been truly put through its paces. I've been hugely impressed by how well it's been running. This mini PC is ideal for school work, browsing the internet, YouTube, most other office tasks or as a multimedia PC.
Noise Levels and Power Consumption
While there is a fan inside, it only seems to be audible for the first 10 seconds while booting up or under a high load. The rest of the time it's practically silent. It also takes barely any power to run (6W while idle/ 13W stressed). In fact, the Neo N42C-4 will run from a Type-C USB port without the need for a mains adapter. I've actually been looking for a low-cost VESA mount compatible PC monitor with a Type-C USB output and found this one. which I think will be ideal.
The Minix Remote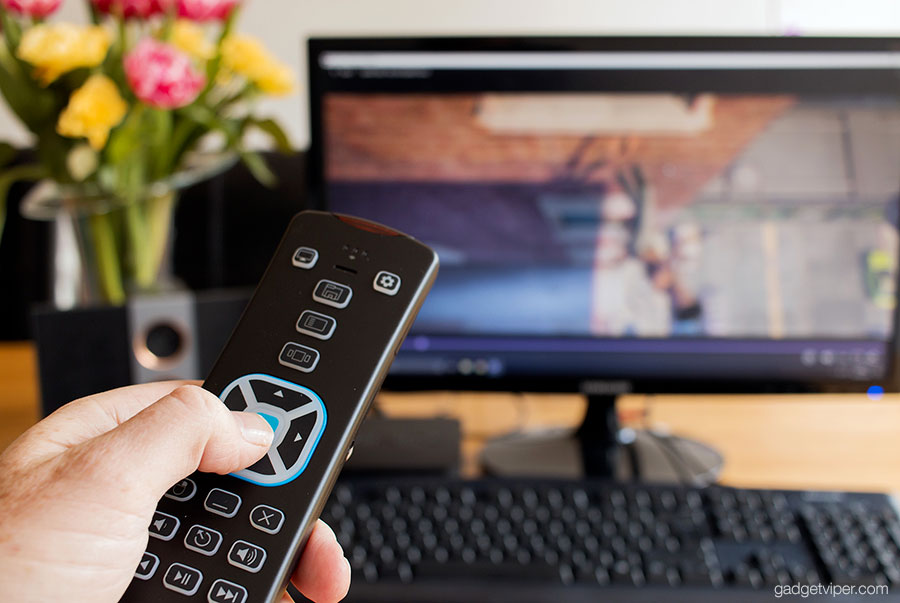 If you are intending to use the Windows 10 Pro mini-PC for multimedia connected to a TV there is an optional wireless remote called the Neo W2. It connects via a small USB dongle and allows you to take full control of the PC without the use of a keyboard or mouse.
There is a six-axis gyroscope inside that moves the mouse cursor around the screen and a selection of Windows 10 specific shortcut buttons to quickly access folders. When you need to type, simply turn the remote over and there's a full mini keyboard. It's backlit for low light environments and will automatically drop into standby mode when not in use.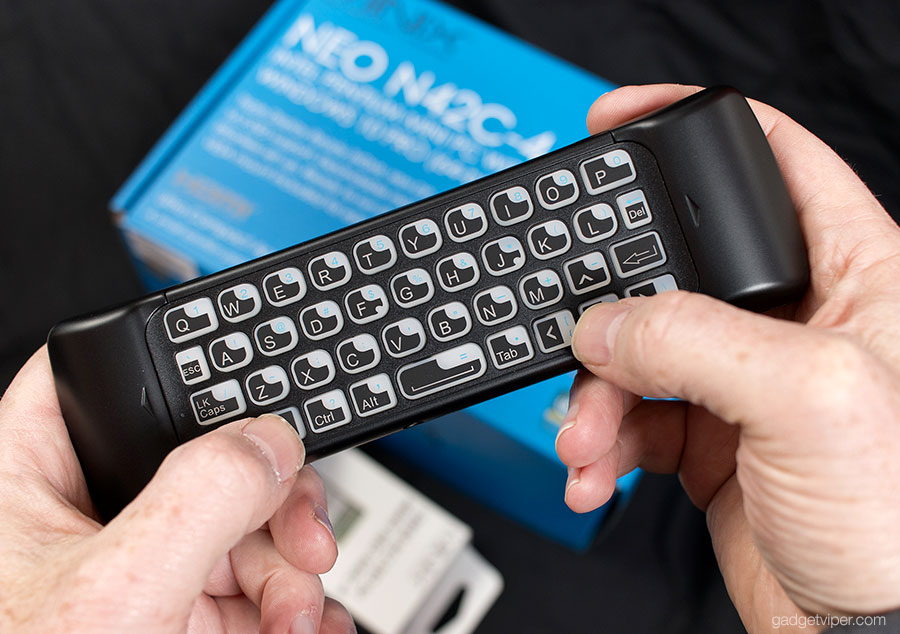 How To Upgrade the Minix Neo N42C-4 Mini PC
The user guide that comes with the mini-PC has no information regarding the upgrade process. However, if you've purchased a Minix branded memory stick or SSD, there will be an installation card included. Unfortunately, this is pretty vague for those with little experience. – Hopefully, my upgrade guide below will help you out.
Preparing for the upgrade
Before you begin, boot up the mini PC as it comes out of the box to activate Windows 10 Pro, then restart the PC and press the delete key to enter the BIOS.
Once in the BIOS, go to the Chipset settings, go to 'South Cluster Configuration', 'SCC configuration' and disable the 'SCC eMMC support'.
Next, go to the 'BOOT' tab and alter the Boot options priorities. By default, it will boot into EFI Shell. You need to choose 'Windows Boot Manager' as option 1.
Now press the F4 Key to save and exit then power off the PC and unplug it.
Upgrading the hardware
You start the process by removing the four rubber feet on the base of the device. They're just stuck on and can be refitted afterwards, there's also some spare feet in the box should you need them.
Next, grab yourself a small cross-head screwdriver (the only tool you'll need) and unscrew the four retaining screws.
Remove the base and you'll see an empty memory slot and the PCI slot for the SSD.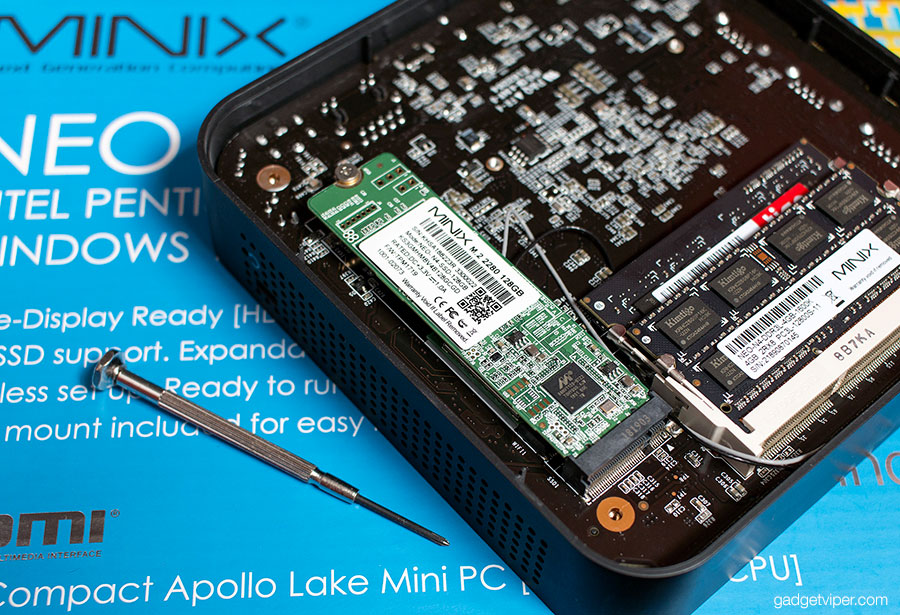 Insert the RAM into the empty slot at about a 30-degree angle and then push it down until it clips into place.
Remove the small retaining screw below the PCI slot, fit in the SSD card and then use the screw to hold the card in place.
Reattach the rear panel with the four screws and re-stick the rubber feet back over the holes.
That's the hardware portion of the upgrade taken care of. Now, if you've added a Minix SSD with pre-installed Windows 10 Pro (as I did), then you're ready to reconnect and restart the PC. If however, you've installed a clean SSD drive, then you'll need to prepare a USB stick with the Neo N42C firmware- Here's how.
Preparing a Bootable USB Memory Stick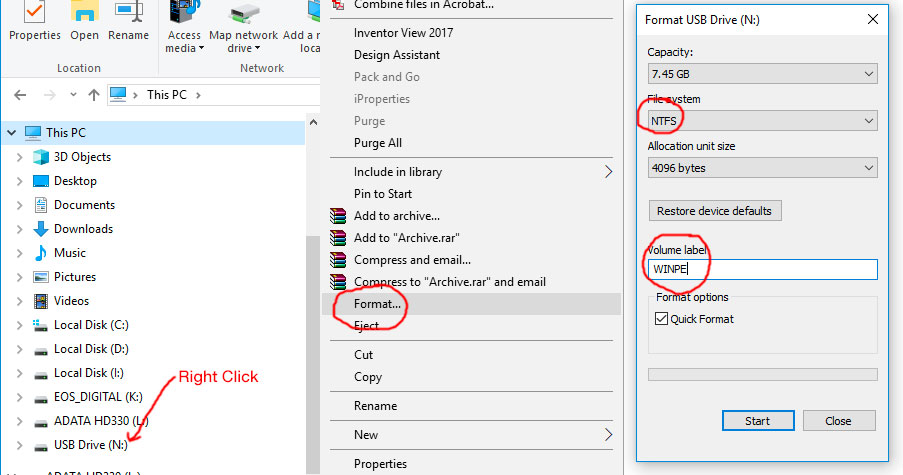 Grab a USB stick with at least 8GB of storage and attach it to a PC.
Right-click the drive from 'My Computer' and choose 'Format'
Select NTFS as the file system type and name the drive 'WINPE' in the volume label box (as shown in the picture above), now click 'start' to prepare the USB stick for the firmware.
Now you'll need to download the firmware file from their official forum, here's a link 
Once it's downloaded, you'll need to extract the files and then copy and paste them all to the root folder of your prepared USB stick. It should look like this – 

All you need to do now is plug the USB stick into your Mini PC, boot it up, and wait for the installation to complete.
And that's it guys, You should now have a powerful Mini PC running Windows 10 Pro with a good amount of storage and memory!
Verdict
Minix has already established a solid reputation for making some great quality devices that have proven to be reliable and great value for money. The NEO N42C-4 certainly seems to fit the bill.
There are very few mini PC's on the market that offers as many connections and upgrade options as the Minix Neo N42C-4 does. Yes, in an ideal world, it would come with a big SSD and extra RAM pre-installed. However, if it did, I'd guess the price tag would leap up by a significant amount to cover the of $200 price tag for an activated copy of Windows 10 Pro. So, with a small amount of post-purchase effort on your part, this Mini PC has huge potential to be an absolute bargain.
Price and Availability
Mini PC Model
Minix NEO N42C-4 Windows 10 Pro Mini PC
Inside the box
VESA compatible mount, HDMI cable, Universal Mains Adapter, optional SSD and RAM expansion.
*Price last updated on the 12th of July 2019 at 09:00 am GMT
Product prices and availability are accurate as of the date/time indicated and are subject to change. Any price and availability information displayed on Amazon at the time of purchase will apply to this product.