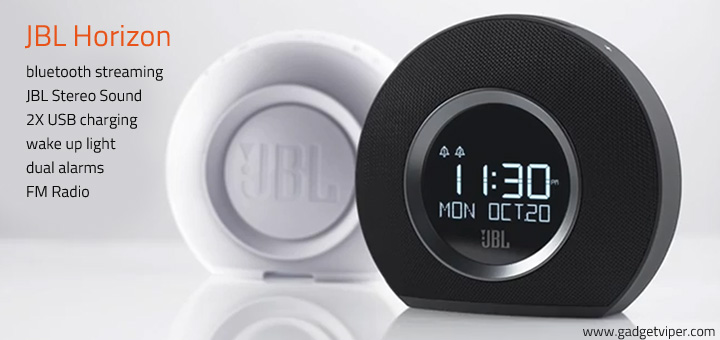 The JBL Horizon is the latest multifunctional alarm clock to feature the ambient wake up light. For those of you that are unsure if a wake up light will actually work, this is only stage one of the waking up process.  A Wake up light will help to guide you gently out of a deep sleep and into a semi-conscious state that is far less painful to emerge from when the time finally comes to drag yourself back into the real world.
JBL Horizon Alarm Clock

Amazon.com
lowest price: $129.95 $99.49
Price information last updated on the 25th of October 2016 at 10:50 GMT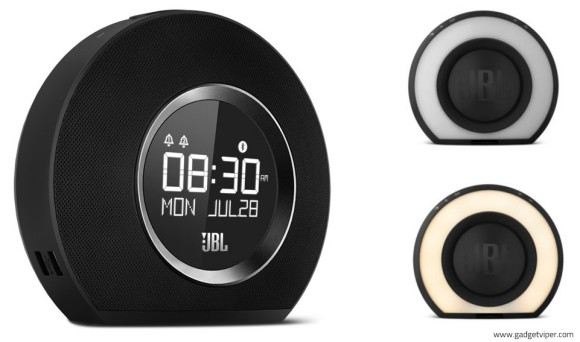 Along with the increasingly popular wake up light feature, the JBL Horizon also offers the following features:
Independent Alarms  – The JBL Horizon alarm clock has the option to set 2 separate alarm times, should your partner need to get up earlier or later than you.
JBL Stereo Sound – For those of you who are unfamiliar with JBL's pedigree with speaker technology, they actually produce some of the finest portable bluetooth speakers available with an extremely high quality of sound
Bluetooth Streaming – Make use of the quality JBL speakers by bluetooth streaming your music from your phone, tablet of laptop.
FM Radio –  While most radio alarm clocks will sound rather tinny and flat, the JBL stereo speakers will make the radio a joy to listen to.
USB Charging – The JBL Horizon has 2 built in USB charging ports making it ideal to recharge your phones over night without the need to additional plug sockets.
The JBL Horizon alarm clock has a compact well designed rounded shape, which has proved very popular with other Wake up lights such as the Philips sunrise alarm clock.  I'm guessing it's because we are programmed to respond better to a naturally rounded light rather than a square design.  The body of the alarm clock has a soft rubberised finish that is nice to the touch and works well to ground the clock onto the surface of the table.
JBL Horizon Alarm Clock

Amazon.com
lowest price: $129.95 $99.49
Price information last updated on the 25th of October 2016 at 10:50 GMT