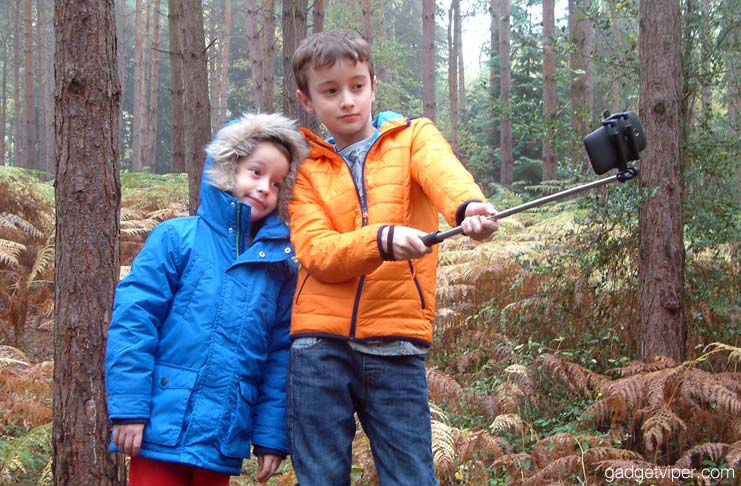 EasyAcc Bluetooth Selfie Stick
The EasyAcc MonoPod is a lightweight and compact bluetooth enabled selfie stick.
Fully extended the EasyAcc selfie stick has an impressive length of 80cm (30 inches) and collapses down to just 18cm (7 inches).

Features
Bluetooth enabled shutter button

270-degree adjustable head

Stainless Steel telescopic arm
Length – 18cm – 80cm
Weight –  148 Grams
Wrist strap and USB cable included
EasyAcc bluetooth selfie stick
Amazon.com
lowest price: $35.99 $13.59
Price information last updated on 03/11/2015 10:10 GMT
EasyAcc Bluetooth Selfie Stick – Full Review
1
EasyAcc bluetooth selfie stick – Intro
As a child, I remember this strange guy who'd wander around our estate having a full blown conversation with himself. We all used to point him out and giggle at how weird he was. These days, however, it's totally acceptable. No longer is it a sign of madness, it's just someone taking a hands-free call on their smartphone – most of the time anyway.
This brings me to the gradual social acceptance of the selfie stick. Currently, they're more often than not found in the hands of excited tourists marching through the streets of London. Many of us are still in the 'point them out' phase, but it won't be long before the selfie stick transitions from the hands of tourists into the mainstream. In the meantime, however, I have chosen to use my 2 young boys as "Selfie Models" – This is for 3 reasons:
 A selfie stick is a perfect accessory for anyone with short arms and a large head.
You can't accuse a young child of being vain and self-obsessed when spotted with a selfie stick.
Their modelling rates are dirt cheap – 2 MacDonalds Happy Meals.
2
EasyAcc Bluetooth selfie stick – Design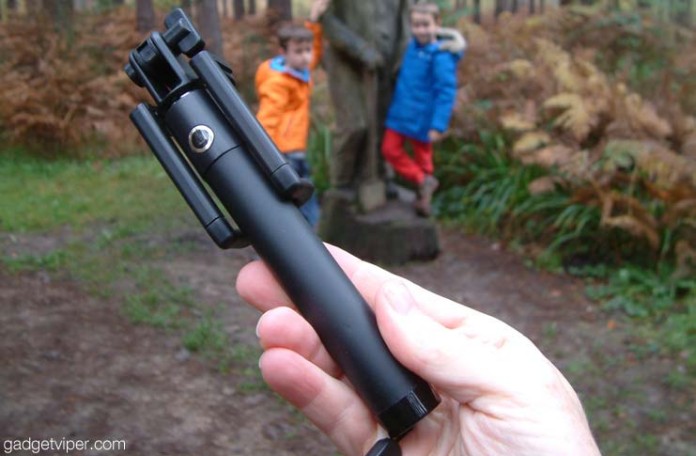 The EasyAcc MonoPod in it's fully collapsed and folded position is exceptionally small. This is due to a combination of the 7 separate stainless steel telescopic sleeves and the cleverly designed hinged head which folds neatly over the handle.
The head on the EasyAcc selfie stick features a sprung loaded clamp with a range of adjustment of 55mm to 90mm. The rubber coated gripping points are angled towards the rear which retains the phone extremely well. There is a gap between the contact points of about an inch which should allow enough space for most smartphone buttons.
The head connects to the arm of the MonoPod via an adjustable thumb screw to allow it to twist 270 degrees to set your preferred angle.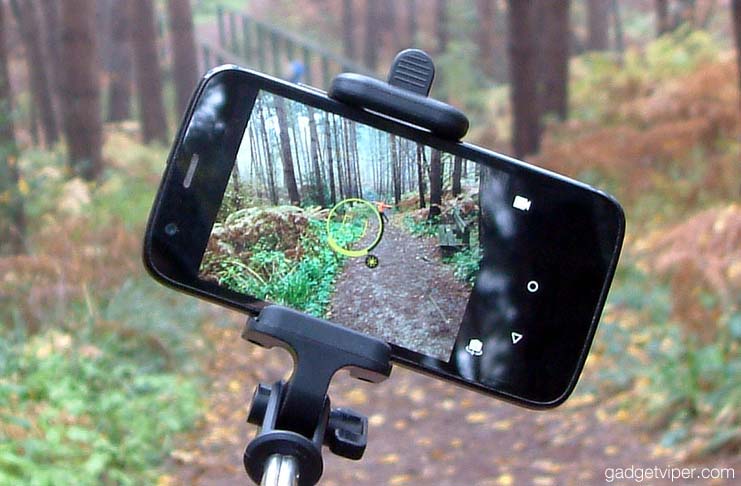 The telescopic arm on the EasyAcc selfie stick is made from 7 separate stainless steel sections, formed with a recess that aids stability and prevents the tapered sleeves from rotating.
There is a very consistent tension on the sections, allowing you to extend the selfie stick to a preferred point without any zones of weakness.
The handle of the EasyAcc selfie stick has around bluetooth shutter button at the top which can be pressed comfortably with your thumb. The majority of the handle is covered in a soft rubber sleeve to aid your grip and there's an additional wrist strap for further safety.
3
EasyAcc bluetooth selfie stick – Features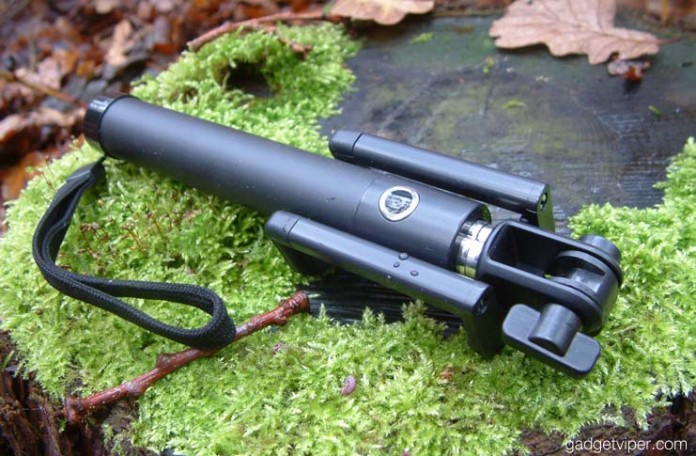 In order to connect the EasyAcc selfie stick with your smartphone, you need to hold down the shutter button for 3 seconds. Pairing mode is indicated by a blue flashing LED on the button. At this stage, you simply need to turn on your phone's Bluetooth and select the device listed as 'Easypho'. Once paired the light will stop blinking and will only be lit while taking a picture.
If the connected selfie stick is not used within a 10 minutes period it will automatically switch to sleep mode and will come back on and reconnect with a quick press of the shutter button.
The battery life of the EasyAcc Bluetooth selfie stick provides up to 20 hours of paired time and a standby of 3 days. It can be recharged via the micro USB in the base of the handle with the cable provided. During charging there is a small red LED light to the side of the USB port, which goes out once the selfie stick is fully charged.
Specifications
Battery capacity: 60mA
Standby time: 3 days
Working time: 20 hours
Charging voltage: 5V
Charging time: 30 mins
4
EasyAcc Bluetooth selfie stick – Verdict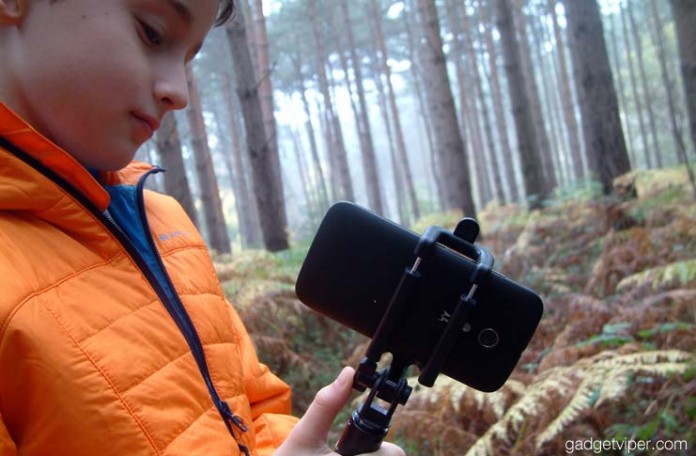 The EasyAcc Bluetooth selfie stick paired easily and worked flawlessly even in the hands of my 5-year-old son.  He was also kind enough to test its grip on my phone by swinging it around like a sword… Before this review, the thought of using a selfie stick hadn't really crossed my mind. I don't currently Vlog and I'm not that active on Facebook or Pinterest.
I do however take a ton of selfies when I'm hiking or wild camping with friends.
Despite my obsession with keeping the backpack as light as possible, I think an additional 148grams of weight in order to bring this Selfie Stick along is worth it – Especially considering how ridiculously good looking my friend and I are…
The EasyAcc Bluetooth selfie stick is great value for money and would make the perfect gift for anyone looking to take their selfie shots to the next level. I hope you enjoyed this review, if so please leave a comment or share it socially with friends *BlueSteel selfie pout..
EasyAcc bluetooth selfie stick
Amazon.com
lowest price: $35.99 $13.59
Price information last updated on 03/11/2015 10:10 GMT
To see further information on the EasyAcc selfie stick or to view more products by EasyAcc, please visit their website.