The first device of it's kind – Car WiFi powered by 4GEE Network which is set to cover over 98% of the UK population by the end of 2014. Capable of connecting up to 10 devices and specifically designed to be used in a car, the EE Buzzard could prove to be the perfect piece of kit to combat the back seat wars over Dad's mobile phone.
November 17th  – Read the new EE Buzzard 2 review here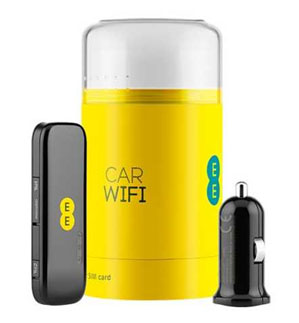 The EE Buzzard's design is cleverly shaped to drop nicely into a cup holder and plugs directly into the 12V power socket. Should this cause a power struggle with your Sat-Nav it also has a USB connection.- if your car is modern enough to own a USB port that is.
The EE Buzzards 4GEE Network currently only covers 72% of the UK population, however, the device will switch to their 3G network whenever the 4G drops. Now….this might mean that Stampylonghead's horribly annoying voice needs to momentarily buffer creating a few precious seconds of joyful silence – but that's a good thing right?
The Buzzard comes free with all £15.00 a month plans, so if you don't mind gently clamping a boiling hot cup of coffee between your thighs in order to make room for this amazing piece of mobile tech, then head over to EE for more information or to grab one for yourself – EE Mobile
Update: The EE Buzzard in-car wifi is now available to buy on a Pay as you Go basis. EE Buzzard – Pay as you Go
November 17th  – Read the review of the new EE Buzzard 2 here