Anyone who has bought a portable charger will know how handy they can be to give your devices an extra bit of juice when you are off the grid.  However this doesn't need to be their only sole purpose, there's a whole host of cool things you can do with a battery pack other than keeping it for emergencies.
I recently stumbled upon a USB fan on Amazon called the Arctic Breeze which basically plugs into the USB port on your laptop.  The fan has an adjustable cable to allow you to position it and is unbelievable quiet and surprising powerful.  Priced at only $7.99, it's no wonder it's a best seller.  While I can imagine it being fairly handy on a hot day plugged into a laptop, I knew that by making use of my battery pack I could convert this into a truly useful portable fan.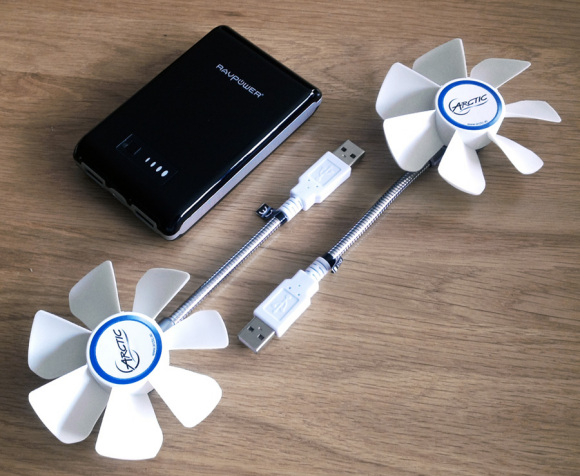 My Portable phone charger is called the RAVPower Element and like most battery packs of it's size it has 2 USB outputs for charging.  With this in mind I decided to buy 2 fans instead of just one. The very next day they arrived and I set about testing how well they performed plugged into my portable charger.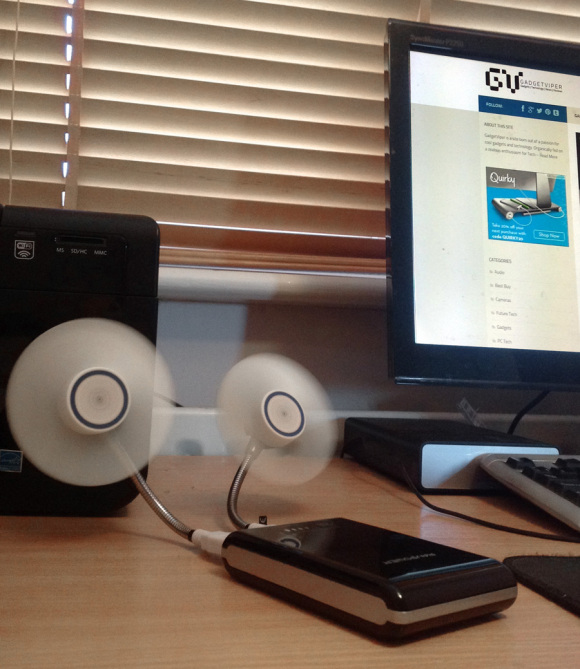 As a desktop fan
The Portable Charger is naturally heavy due to the weight of the lithium batteries inside making it a perfect base for the lightweight Arctic Breeze fan.
You could even duct tape the charger to the underside of the desk and direct one fan towards your junk while the other is blowing on your PC tower to improve airflow during hardcore gaming sessions.  It's probably best however, to turn it off while taking that hard earned porn break.  Joking aside, even though this fan spins pretty fast and doesn't have a guard,  I've tested it (with a finger) and it doesn't hurt,  so I'm guessing most battle hardened mushroom tips would also survive the contact.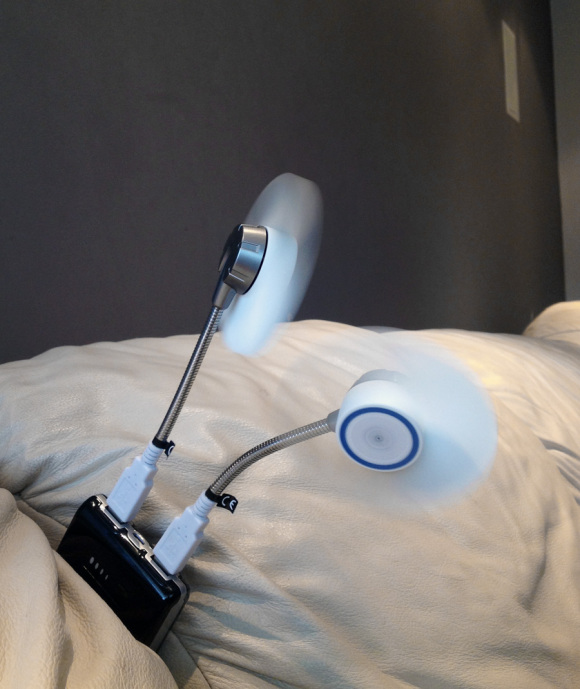 As a sitting room fan
I wedged the portable charger in my sofa and directed a fan towards me and the other towards my partner, which worked perfectly.  The only drawback of sharing the breeze is that she'll need to be sitting next to you, which may not be your preferred seating arrangement these days. On the plus side though, if she leans over to try and snuggle up, she is likely to get her hair tangled up in the propellers, which could be worth a giggle.  If you're like me, (a selfish git) who demands the whole sofa for yourself, you can simply lay down and place the portable charger centrally and let the fans double team you for maximum pleasure.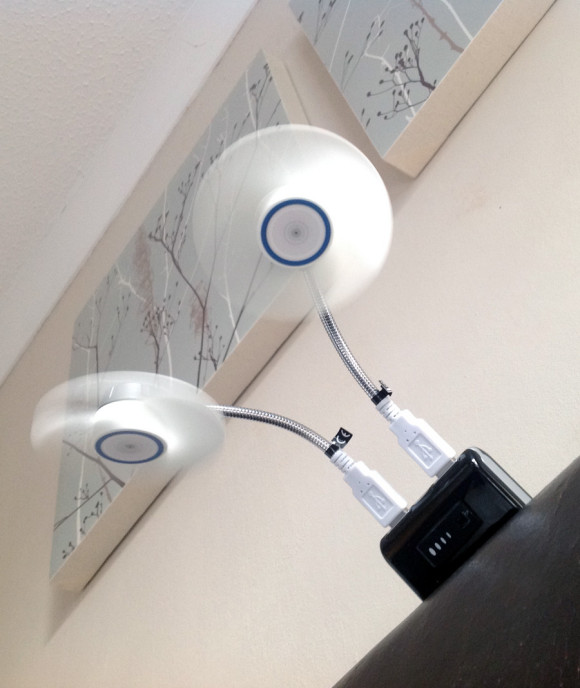 As a bedroom fan
Out of all the places that you are likely to get all sweaty and uncomfortable on a hot summers night, the worst has to be the bedroom.  The dual USB fan and portable charger combo is in it's element here.  Not only is it really quite, it's also highly cost effective when compared to having a regular mains powered cooling fan running all night.  I whacked my portable charger on the bed's headboard and had it blowing a gentle breeze over my head and torso. If you happen to try this for yourself, please make sure you secure it well.  Being face planted by a hefty battery pack in the middle of the night is probably not going to be well received, especially if your wife is the victim.  Trust me, there's nothing worse than waking up next to a women with 2 black eyes and a bloody nose, it can make morning sex extremely undesirable.
I highly recommend Arctic Breeze USB fans to anyone who has a portable charger gathering dust somewhere.  For all those that haven't yet bought a battery pack, now is the time as Amazon are currently running their Black Friday deals so they will no doubt be ridiculously cheap – for the next week at least – You can read our Portable Phone Charger buyers guide here.
I hope you enjoyed this post, if you did, please leave a comment or share it with others using the social buttons.