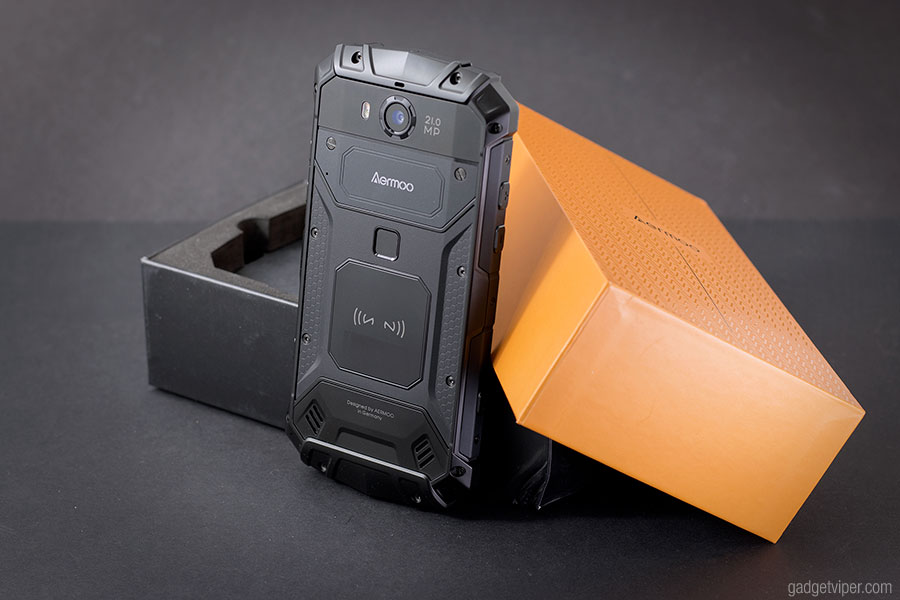 Aermoo M1 Rugged Smartphone
Built like a tank, the German-designed Aermoo M1 Smartphone is a shock resistant and fully waterproof high-performance Android phone, packed with features.
The Aermoo M1 has a built-in walkie-talkie and SOS button. Ideal for on-site communications or for outdoor adventuring, as a long-lasting and robust emergency smartphone.
Highlights and Features
IP68 – Dust and Waterproof to 3m
Extremely rugged and shock resistant
Metal housing in black, grey or rose gold
5.2″ 1080p screen with Gorilla Glass 5
Massive 5580mAh battery
21MB rear camera – Sony IMX 230 sensor
12V-2A Quick charge and Wireless Charging
Six buttons and a Fingerprint scanner
Programmable SOS button
Pros and Cons
+
Very tough, fully water resistant, huge battery life, good performance, loads of features
–
Tactile buttons are easily pressed in error, fairly heavy and a little expensive.
Where to Buy the Aermoo M1?
*Price updated on the 9th of June 2018 at 16.00 GMT
Price and availability are accurate as of the date/time indicated and are subject to change. Any price and availability information displayed on Amazon at the time of purchase will apply to the purchase of this product.
Intro
Most of us have dropped our phones on the odd occasions. If you're lucky, it will land on a soft carpet and be safe and sound. If you're unlucky, it will bounce off a pavement or plop into the toilet bowl – Yep, It's happened to me… 
Whether or not those odd occasions warrant the need to buy an armour-plated beast of a phone like the Aermoo M1 is debatable. However, there are some of us that have a need which goes way beyond avoiding the occasional accident. Those that work in labour-intensive industries or in outdoor environments that the typical flagship phone just isn't designed for. The big question is, how does the Aermoo M1 compare to other rugged smartphones? – Let's find out.
Aermoo M1 – Full Review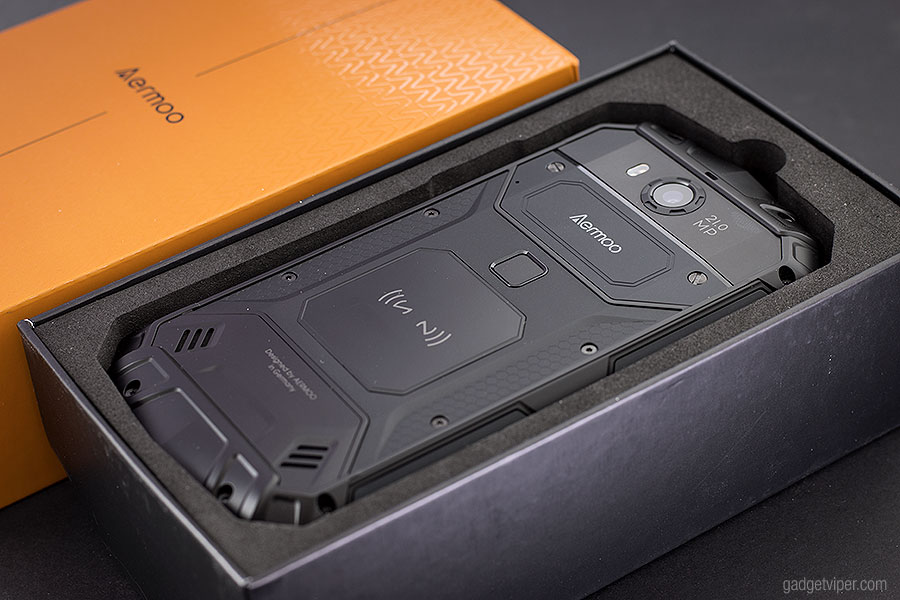 Unboxing
It was a very pleasant experience unboxing this phone.  The packaging is of a premium quality with the Aermoo M1 seated neatly inside a closed-cell foam inner. Along with the phone, there's a wall charger, micro USB cable, a screwdriver, spare screws, an additional screen protector, a warranty card and a quick start guide. The guide is fairly basic with a brief description of the product and its specifications.
It does mention that there is a full user manual in the settings of the phone – but if there is, I can't find it. Anyone familiar with using Android phones probably won't have a need for the manual beyond installing the microSD and SIM cards.
For those interested, here's a download link from the Aermoo website –  be warned, however, its a whopper of a file at 1.3gb in size.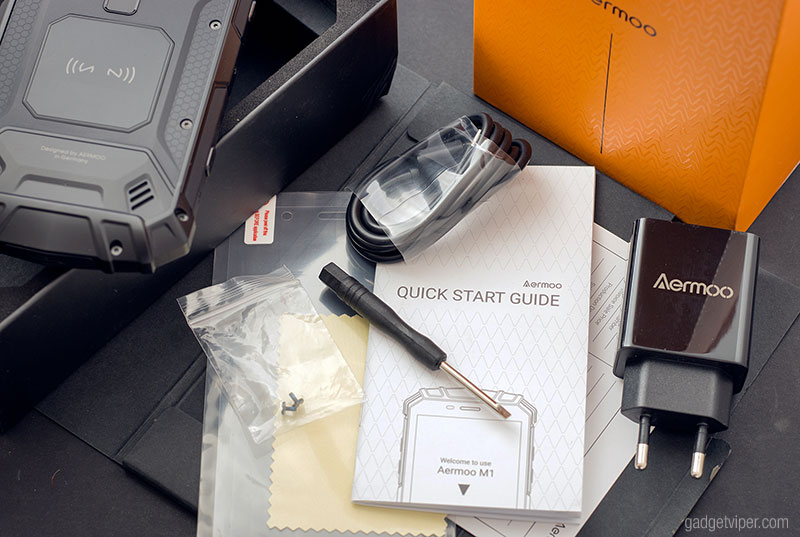 Design and Build Quality
The Aermoo M1 measures 164mm in height, 81mm in width and is 15mm thick.  There's no doubt that the thickness of this phone is considerably more than a regular phone. That being said, there is absolutely no need for a protective case, it's all integrated into the design.
The Front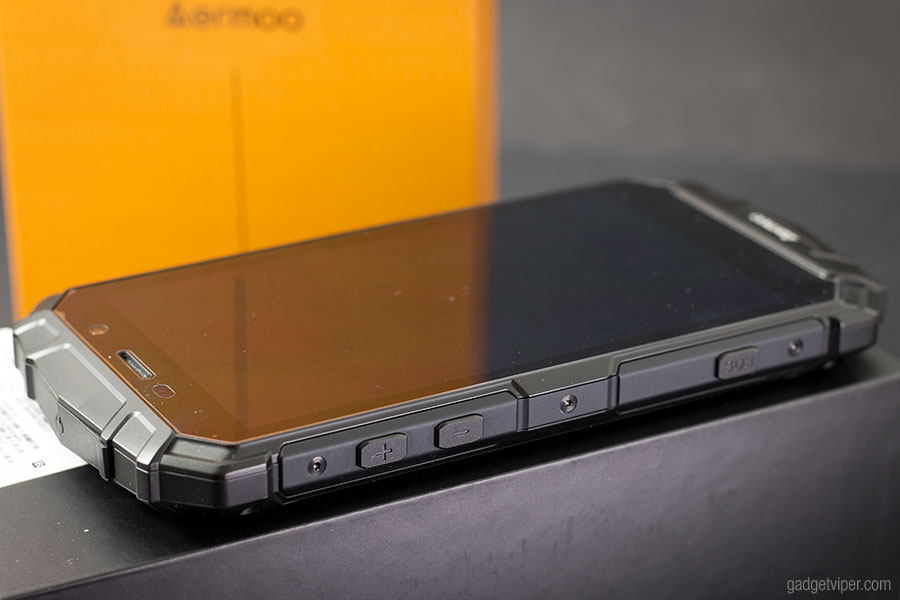 The 5.2″ screen has bevelled edges to absorb impact and there's a substantial thickness to the corners of the housing. At the top, there's a proximity sensor, a speaker for calls, and an 8MP front-facing camera.
The display is made from 0.9mm Corning Gorilla Glass 5 and comes factory fitted with an additional scratch resistant layer.  While the M1 has a typical no-thrills rugged look from the front, in contrast, the rear looks the absolute business!
The Rear
The CNC machined metal detailing is extremely eye-catching – especially in the grey and rose gold versions. The combination of angled detailing and surface finishes give the Aermoo M1 a very premium look.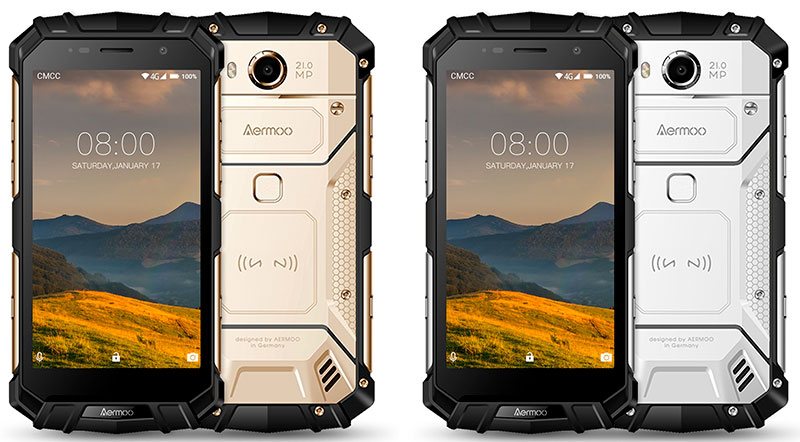 On the rear, there's a 21MP camera with a fingerprint sensor, NFC tap to pair zone, and two speaker openings. You'd be forgiven for thinking you're looking at stereo speakers here, but you'd be mistaken – The left side is an actual speaker, the right is not.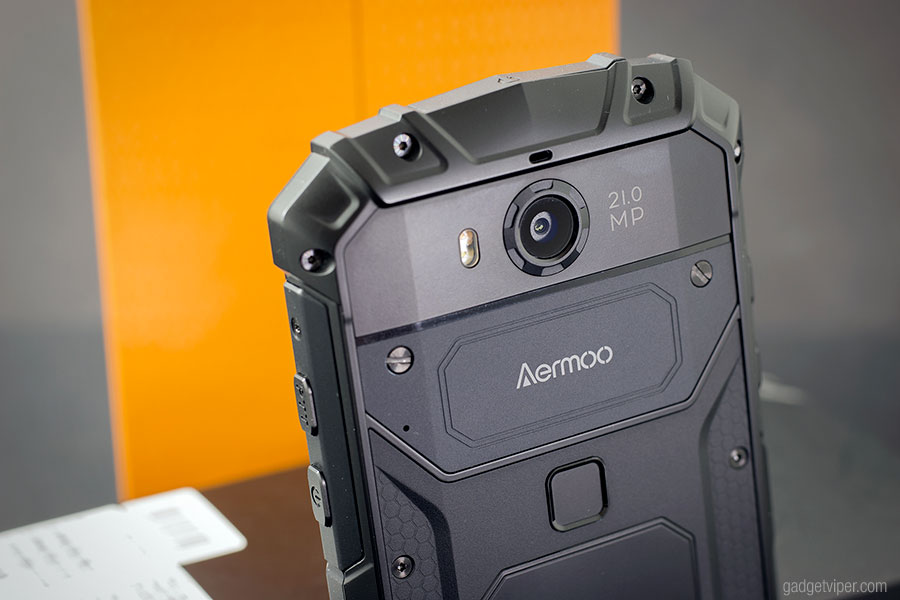 From an aesthetic point of view, the rear of the Aermoo M1 is great. From a practical point of view, however, I do think the fingerprint sensor is way too low to comfortably make use of it.
The Sides
Its chamfered edges are ribbed with rugged plastic, with three buttons on each side of the device. The buttons are extremely tactile and comfortable to press. This, I think, is somewhat of a double-edged sword. While I like how responsive and accessible they are, it does make them very easy to press by mistake.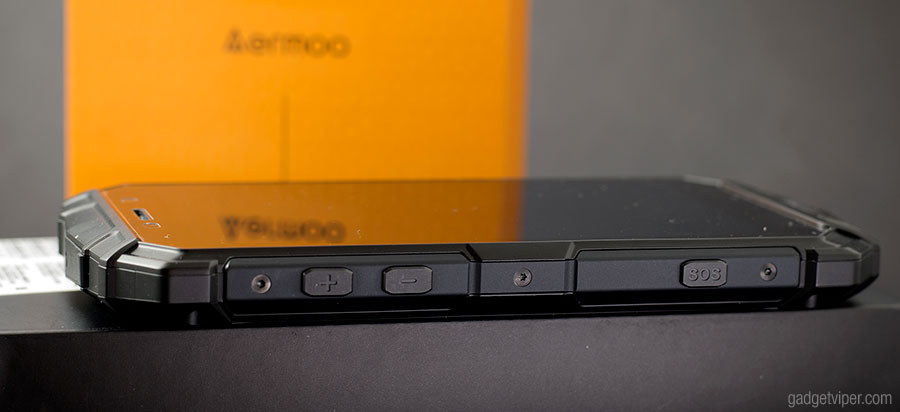 Despite the low position of the fingerprint sensor and the potential for accidentally pressing the buttons, I do like the general design and build quality of this phone. It looks and feels extremely robust, which is exactly as it should be.
Water and Dust Resistance
The protective cover over the charging port on the base and the 3.5mm headphone jack on the top fit like a dream. There's absolutely no chance of any water or dust getting in as long as you've not forgotten to replace the cover after charging.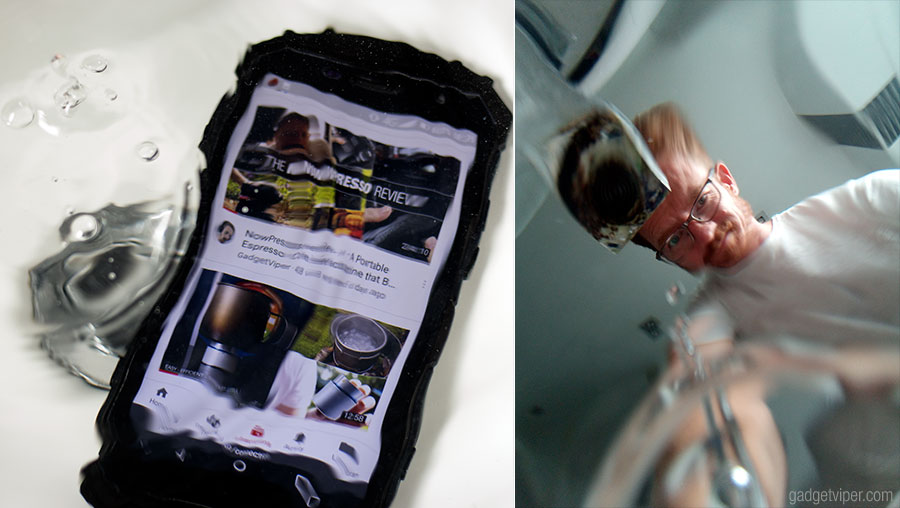 I filled my bathroom sink with water about an hour ago, set the display to remain on and dropped it in. Once submerged, you can't make use of the touchscreen (obviously) but it does work perfectly well the moment you take it out. While immersed, you can make use of the buttons and it takes good quality underwater pictures – so, great for snorkelling trips!
Shock Resistance and Durability
While researching the Aermoo M1 I stumbled upon a YouTube video of some guy doing an extreme drop test. He attached it to a quadcopter, took it to a height of 200 feet and dropped it!
If you watch the footage at 5 minutes in, you'll see it fall to the ground, leave a crater, and yet remain perfectly intact while still filming – You can't ask for more than that!
Aermoo M1 – Full Specifications
Hardware
CPU: Helio P25 Octa-core, Quad-core 2.5 GHz Cortex-A53, Quad-core 1.6 GHz Cortex-A53
GPU: Mali-T880 MP2
RAM: 6GB LPDDR4x
ROM: 64GB
External Storage: Micro SD card (Up to 128GB)
Features
Certified IP68 dustproof and waterproof
Corning Gorilla Glass 5
Dual SIM
Fast charging
Wireless charging
Sensors
accelerometer, barometer, compass, fingerprint, gyroscope, light, proximity
Battery
5580mAh Capacity
12V / 2A Quick Charge
OTG supported
Wireless Charging
Display
Size: 5.2 inch
Resolution: 1920*1080 FHD
Pixel density: 424ppi
Panel Technology: multi-touch
Type: IPS
Camera
Rear camera: 21.0 MP , F2.0 , Sony IMX 230 , PDAF , OIS, Dual color LED flash
Front camera: 8.0MP, F2.2 , 87° wide angle , 1080P
Media Formats
Video: AVI, MP4, WMV, RMVB, MKV, MOV, ASF, RM, FLV
Audio: MP3, M4A, AAC, MKA, AMR, ALAC, FLAC, APE, WAV
Image: JPEG, PNG, GIF, BMP
Network Type
Dual SIM card standby: Micro-SIM + Micro-SIM
2G: GSM: B2/3/5/8
3G: WCDMA: B1/2/5/8
4G: B1/2/3/4/5/7/8/12/17/19/20
Setting up the Aermoo M1
The Aermoo M1 is not your average phone when it comes to accessing card slots. Both are protected behind a sealed metal panel at the rear and are accessed by removing two screws.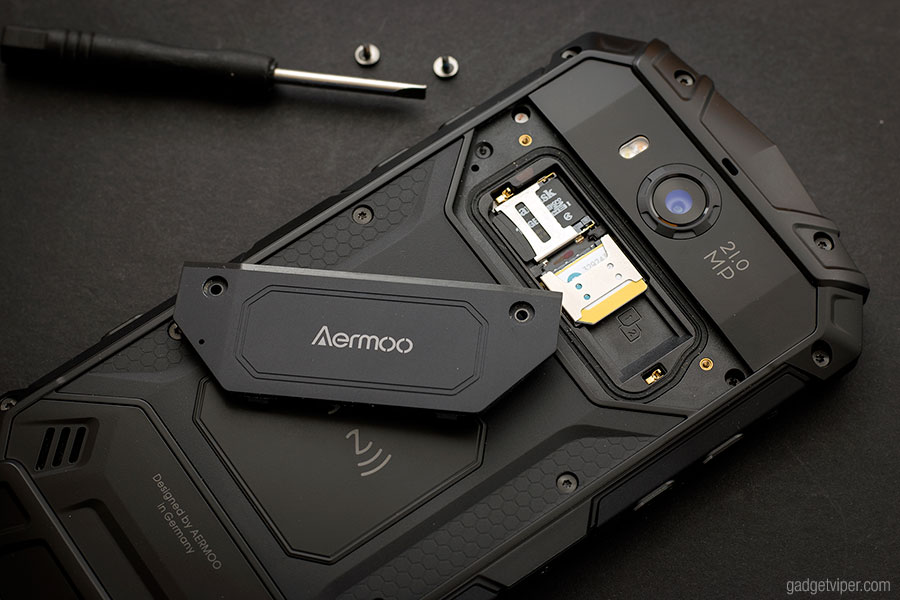 There's a MicroSD slot on the left and dual Micro SIM card slots on the right. Having two SIM cards allows you to have two independent numbers and call plans and could be useful to separate business from pleasure. – Once you've slipped the cards in, just make sure you've fully tightened the screws back up.
Charging the Aermoo M1
You've got two options when it comes to charging the Aermoo M1. You can either plug a micro USB cable in or charge it with a Qi Wireless charger pad. 
If you're using a cable, you'd best not be a nail-biter, because there's a very sturdy port cover on the base of the phone. I'm happy with this, I've seen port covers that blow open in a light breeze, this one is reassuringly tight.
Charging is considerably quicker via the cable rather than using a Wireless charger, which seems to be limited to 5W.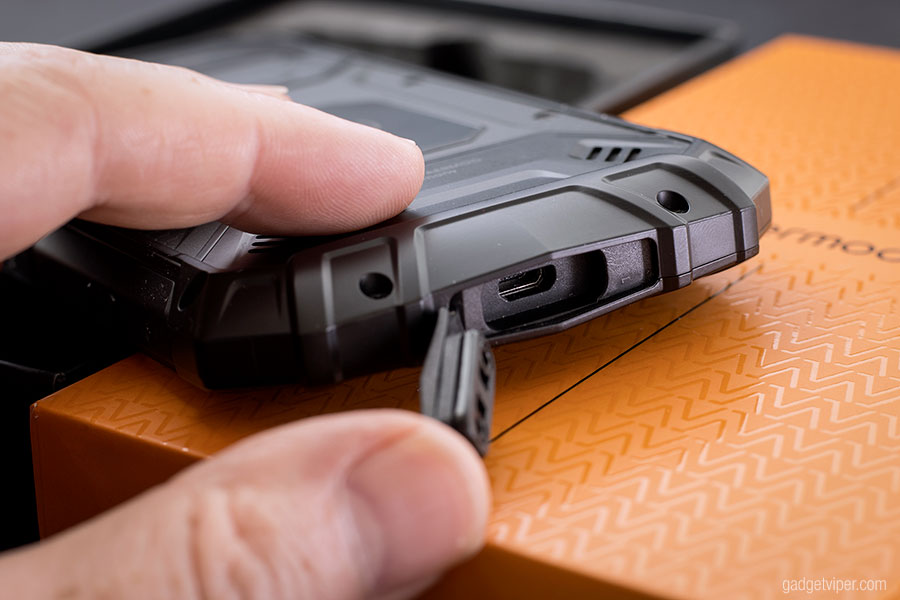 You'll also need to position the Aermoo M1 with the top overhanging the wireless charging pad. I've successfully charged it on three different Qi chargers. Just be aware that it will take quite a few hours to complete the charge. This is mainly due to the Aermoo M1's massive battery capacity.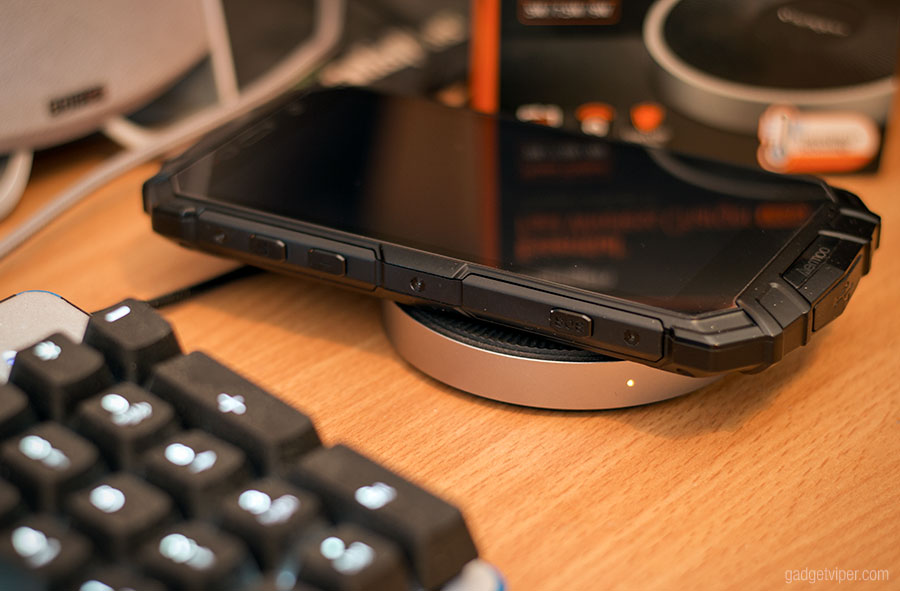 Performance and Software Features
The phone is currently running on Android 7.0. It's a fairly clean software environment and very easy to use. The apps are conveniently ordered alphabetically and there are a few additional apps pre-installed to make full use of the phones capabilities.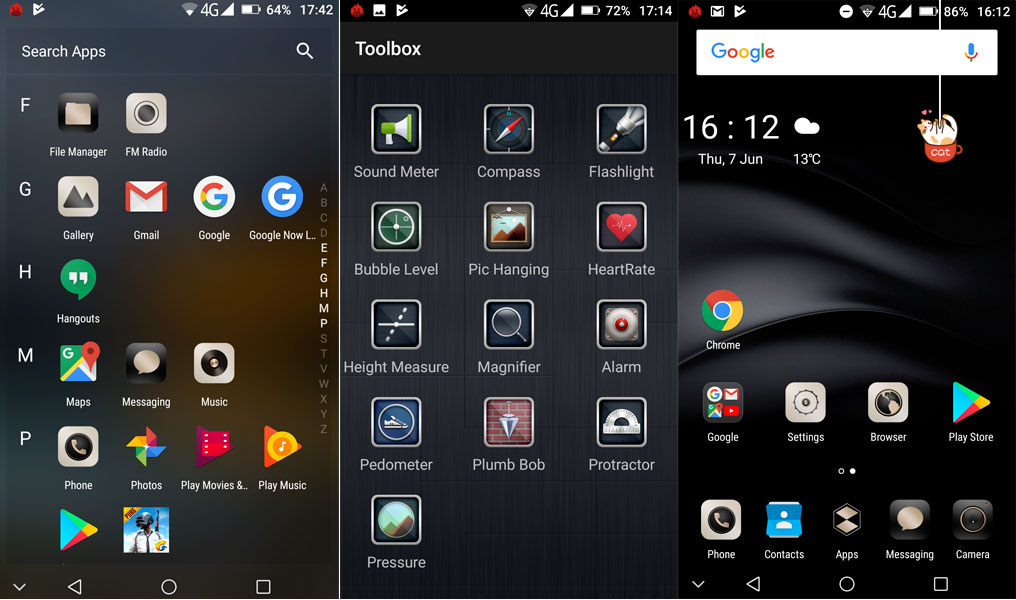 There's an app folder called 'Toolbox' with some really useful features, an app called Xender which is awesome for transferring files and an app called Zello for using the M1 as a Walkie Talkie. Unfortunately, I was unable to test this feature with only a single phone, but I imagine this would be very handy in certain work environments.
There are two things I dislike about the UI, if you swipe left from the home screen you'll see a news app that is not to my taste at all. There's also an annoying dangling cat on the home screen. Both can be remedied quickly by installing the 'Google Now Launcher'.
The SOS button
Within the phone settings, there's the option to choose a contact and a personalised message. When you hold the SOS button down on the side of the phone, you'll start a 5 seconds countdown message. Once complete, an automated SMS message will be sent out with GPS longitude and latitude coordinates and it will also automatically attempt to ring your emergency contact every 30 minutes. – If you have no need for this feature it can also be disabled in the settings to remove the potential for accidentally activating it.
Performance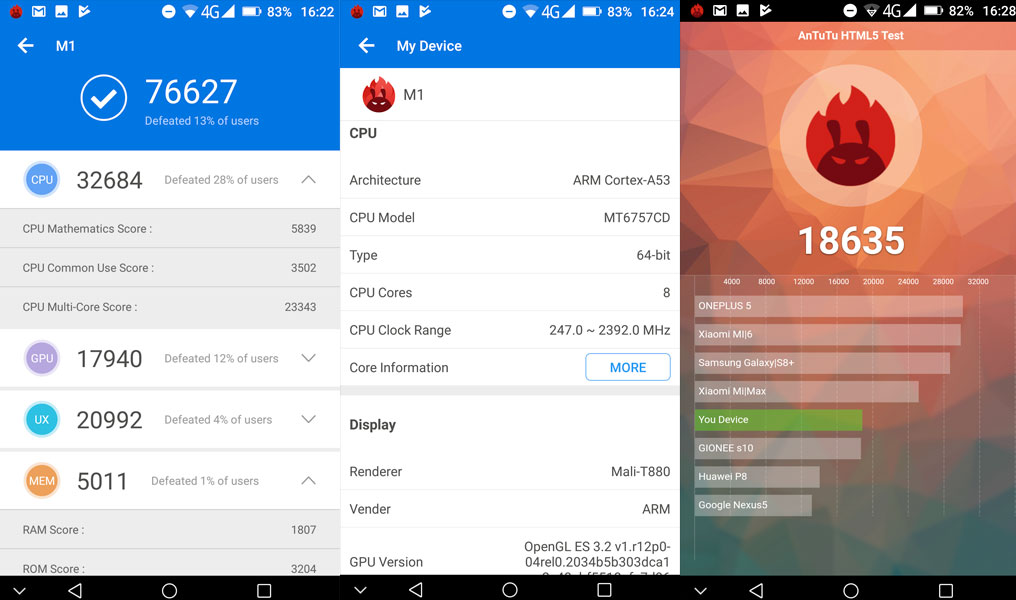 The Aermoo M1 is surprisingly quick and has a very responsive multi-touch screen. It boots fast and has absolutely no problem multi-tasking and switching between apps. I download PUBG and spent some time gaming and was very surprised at how well it handled it. While it's not going to be in the same league as a flagship phone, it's certainly impressive compared to other rugged smartphones on the market. With the popular CAT S41 Smartphone scoring 56,500 on benchmark scores, the Aermoo M1's score of 76,600 is substantially better.
The Screen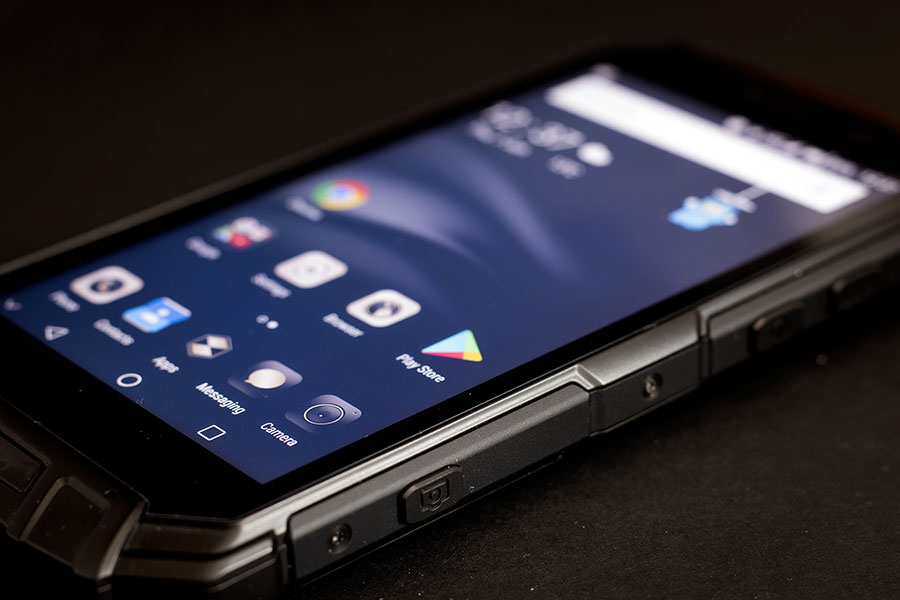 Absolutely no complaints here at all. The FHD 5.2″ display is bright and sharp and looks good from any viewing angle. Aermoo offers a display control called MiraVision which provides real-time enhancements to the picture quality along with an adaptive brightness setting.
Audio Quality
The call quality is great. There's no hiss or crackle, vocals are clear and there's a good volume level. In contrast, the rear speaker lacks clarity and doesn't sound that great at full volume.
As previously mentioned, it looks like there are dual speakers from the openings at the rear, but I'm pretty sure it's a single one.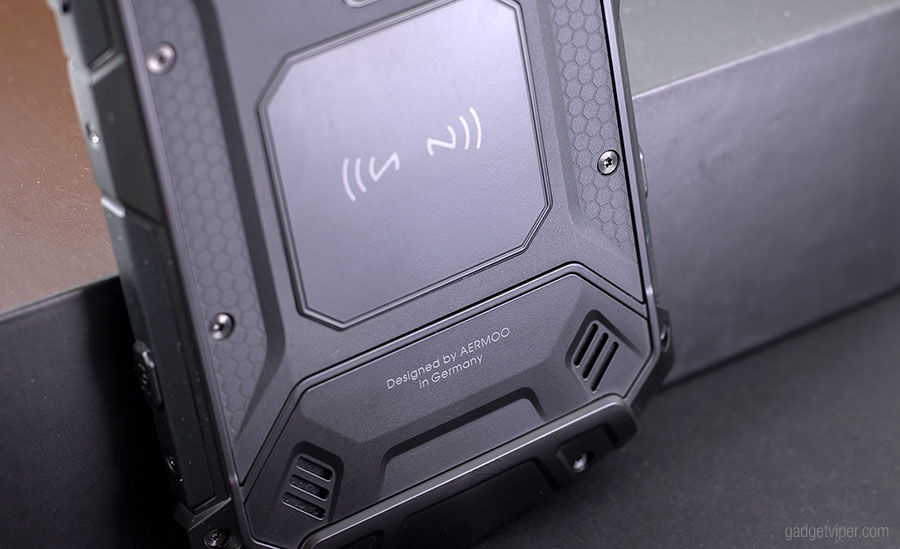 The Battery Life
Most smartphones struggle to last the day without a charge even with an average amount of use. The Aermoo M1 has a battery that's twice the size of regular phones. I fully charged this phone when it first arrived and then checked back on it each day. It was 9 days later before it needed recharging. Even with moderate to heavy use, you'll easily get a good couple of days battery life.
The Camera
The 21MP rear camera does a great job in good light but does struggle a little in low light conditions. The same applies to the front 8MP front-facing camera. The camera app has plenty of settings and modes for different scenarios and the UI is really easy to use.
If you're taking pictures outside during the day, I think you'll be more than happy with the overall quality. However, at night, or in a low lit room you're probably going to feel a little underwhelmed by the results.
Verdict
The Aermoo M1 has a rock solid build quality, a big battery, and is packed with a ton of features. While it's not the cheapest rugged smartphone on the market, I do think its performance and features make it good value for money.
There is room for improvement in the design. The buttons should be a little stiffer to press and the camera could do a better job in low-light. That said, I do think these issues can be lived with. For those with an active lifestyle or a physical job, especially in unfavourable weather conditions, this phone could serve you very well.
Where to Buy the Aermoo M1?
*Price updated on the 9th of June 2018 at 16.00 GMT
Price and availability are accurate as of the date/time indicated and are subject to change. Any price and availability information displayed on Amazon at the time of purchase will apply to the purchase of this product.
I hope you found this review useful, if you did, please share it socially and if you've got any questions or comments, please leave them below – Thanks!