For under £35.00 The Sumvision Cyclone mkv Primus is one of the cheapest options available for anyone looking to stream media directly to their TV in full 1080p HD.  There are a few small stumbling blocks to overcome with this device but don't let that put you off, I have mine functioning far better than my previous solution of a Sony PS3 as it plays just about every video format ever invented.
 Things to know in advance:
Fitting and preparing Internal drive
This device will work out of the box by simply connecting the HDMi cable to your TV and using an external memory source like a USB stick, however if you want to store your films on it, you will need an internal SATA drive,  it's super easy to plonk one in, but you may need to format it, in order for it to function.  I had no file system on the drive I had so I needed to do the following in order to make it functional:
Connect the Primus to your computer with the supplied USB cable to any available port.  Please note that you will also need to plug in the provided power adapter for the Primus.
Switch on your Primus by pressing the standby button your remote control.  Once switched on your PC should detect the primus as a USB device.
On your computer click on the "Start" menu and then right click on "My Computer".  Select "Manage" and the "Computer Management" window will appear.
On the left of the window select "Disk Management".  If you don't see this option select "Storage" and it should appear.
In the disk management window you should notice some white bars with either thin black or blue bars above them. They should also have the words Disk 1, Disk 2 etc on their left.  Locate the bar that has a thin black bar and the words "Unallocated" in it.  Please be careful and ensure you select the correct one.
Right click on the appropriate bar and select "New Partition".  This should open the new partition wizard.  Click on "Next" until the window labelled "Format Partition".  Select "Perform a quick format" then click "next" and finally click "Finish".
Getting 5.1 sound to output through your AV receiver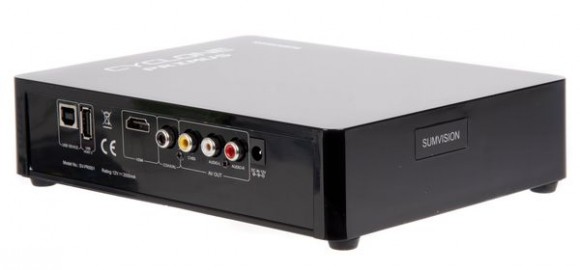 If you don't have an AV receiver or a surround sound system then you can just leave the audio settings as default, which is listed as normal, this will output 2 channels,  however in order to get 5.1 you will need to do the following:
 Get yourself a Coaxial lead – buy it here – amazon
 Attach the lead to your AV receiver and make sure you change the Input settings to take the sound through the coaxial for the rather than the default HDMi cable
go into your audio setting on your Primus and switch the sound settings from normal to "SPDIF RAW"
At this point you should see the channels come through to your AV receiver when playing a movie that has 5.1 audio, if this doesn't work, it probably means you need to update the firmware – I had already performed the upgrade after reading that others were experiencing problems getting 5.1 to function, so I'm not 100% sure if this is still an issue or not.
click here to download the firmware
Extract the files from the rar and place them in the root of a USB stick
Insert the USB pen drive into the Cyclone Primus and navigate to "USB Device".
Select the firmware update.
The screen will go blanks for a while as it updates, just wait a minute or so and it will return to the menu screen.
Now the ugly bits over you can sit back and enjoy your new media player and count all the cash you've saved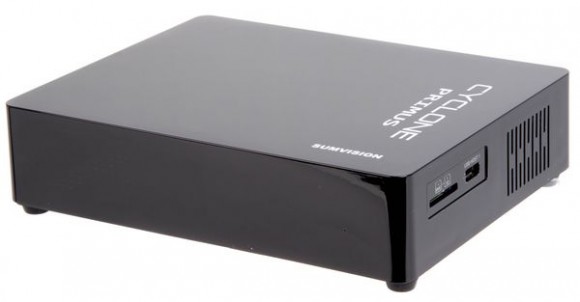 Features
Supports many popular 1080p HD video formats currently on the market
Formats supported include H.264; MKV; DivX HD; MPEG 2-TS; RMVB (up to 720p) and WMV9
USB Host and Memory Cards reader
You can plug storage devices such as HDDs, flash drives or MP3 and play them directly through the Cyclone
Fully integrated SATA HDD player
Media player which has an internal 3.5″ SATA drive slot
HDMI Digital Output
With the HDMI interface you can enjoy superb digital video and audio quality playback on your TV
Where to Buy?
If you have a spare SATA internal drive to drop in like I did then –  Click here
Alternatively is you want to get the device prefitted with a chuncky 2tb drive – Click here