Before getting to the Bowers and Wilkins T7 review it is worth mentioning that this is actually their very first Bluetooth speaker. B&W has always led the way with new speaker technology and have gained a justifiable reputation for delivering the best possible sound from their range of Hi-Fi speakers, AirPlay speakers and headphones.  However, up until now, they have refused to bring a range of Bluetooth speakers to the market simply because they were unwilling to compromise on the sound quality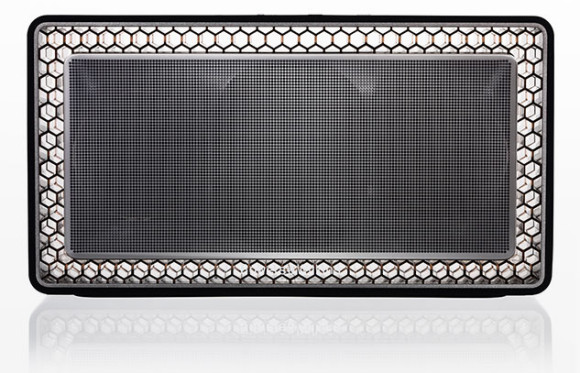 Bowers and Wilkins had always argued that Bluetooth technology was unacceptable due to the compression of the music stream having an audible effect on the clarity of the sound.  This decision to sit on the sidelines of the portable speaker market while other brands like Bose were happy to dominate with their Soundlink range, speaks volumes about their desire to maintain a level of quality that sets their products apart from others.
Q.  So what's changed with Bluetooth speaker technology to make it possible for B&W to introduce the T7 portable speaker?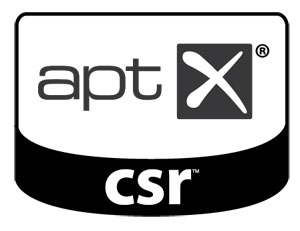 A.  The aptX audio codec from CSR – offering real-time streaming of high-quality stereo audio over a Bluetooth connection. While the Bowers and Wilkins T7 speaker has aptX technology inside, it should be noted that for this to function, the actual device that you are streaming the music from also needs to be compatible.  There are now a huge amount of devices that stream with aptX, sadly, however, this does not include Apple products such as the iPhone or iPad.  The T7 will of course still stream music from devices without aptX, it just won't sound quite a clear,  but unless you are an audiophile, I doubt this will be much of a concern.
Bowers and Wilkins T7 Review
Design Review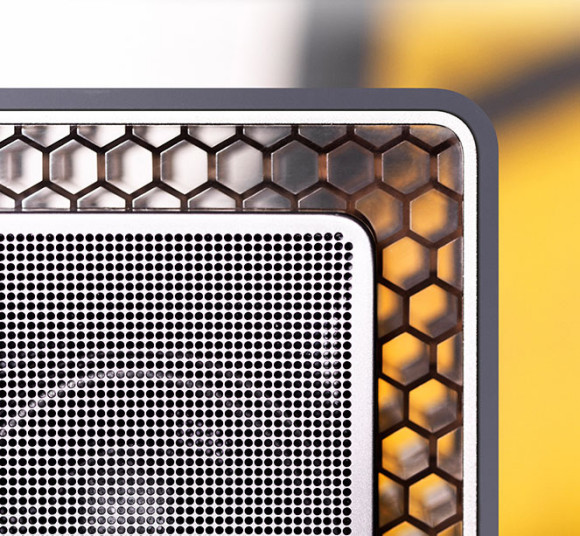 The most obvious design feature of the B&W T7 is the honeycomb structure surrounding the speakers.  Bowers and Wilkins call this 'Micro Matrix Technology' and while it may look stunning from a visual perspective, it actually serves the purpose of reducing vibration and distortion as well as making the housing lighter which is obviously a crucial factor for any portable speaker.
Surrounding the micro matrix is a specialist rubber coating providing an additional buffer against any vibration that may make it past the interlocking cells.  Having a rubber edge on the T7 helps to provide a secure grip when handling the speaker and also helps to shield it from damage during contact with hard surfaces.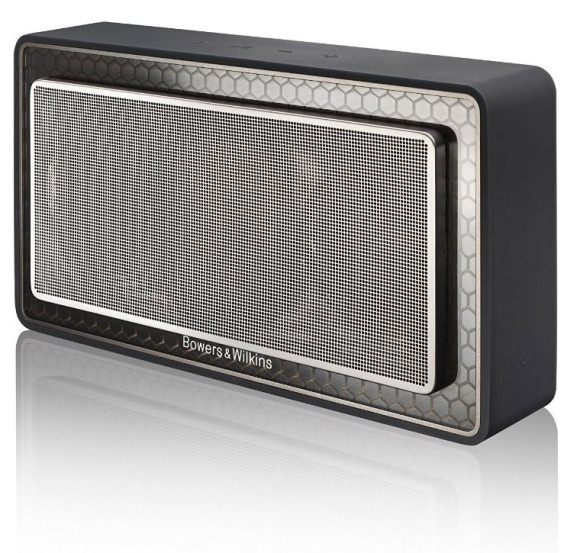 The T7 has a relatively standard rectangular shape measuring approximately 21 x 11 x 5cm and weighing a total of 940 grams.  Had it not been for the unique design of the micro matrix I'd have argued that Bowers and Wilkins first Bluetooth speaker looked a little bland, but I must say that the honeycomb design really sets it apart, especially when light passes through the transparent cells.
Features Review

There are 4 control functions indented on the rubber at the top of the speaker including the pair, play/pause and a volume control and you can skip tracks by simply double tapping the play button. A small and subtle blue LED light is displayed on the left of the controls to show you when the speaker has been successfully paired with your device.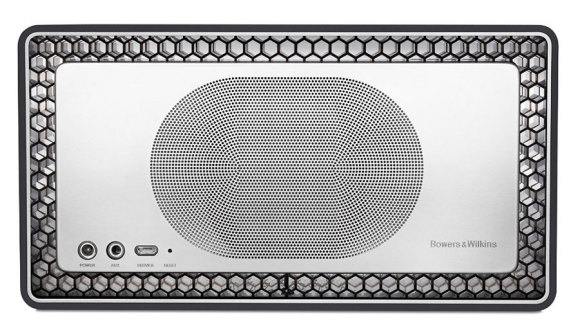 On the rear of the T7 you will find a power, aux, and service port and a small reset button, presumably to correct any pairing issues should they occur.
The pairing couldn't be easier, you just hold down the Bluetooth button on the top of the speaker.  The T7 will remember up to 8 different devices at any one time and has impressive and unique audio cues and notifications sound composed by Mira Calix.  The whole process feels very high-end, as you would expect from Bowers and Wilkins.
One of the most impressive features for me, considering the amount of power the T7 speaker has is the battery life.  A huge 18 hours off a single charge when tested at 75% volume levels.  For a portable speaker of this size and quality that amount of battery life is just about as good as it gets,  with most rivals Bluetooth speakers in the 8-12 hour bracket.
Sound Quality Review
The Bowers and Wilkins T7 has 2 x 50mm bespoke drive units with glass fibre diaphragms. Each unit is mounted in a rigid steel bracket to allow a tight movement and the perfect amount of airflow.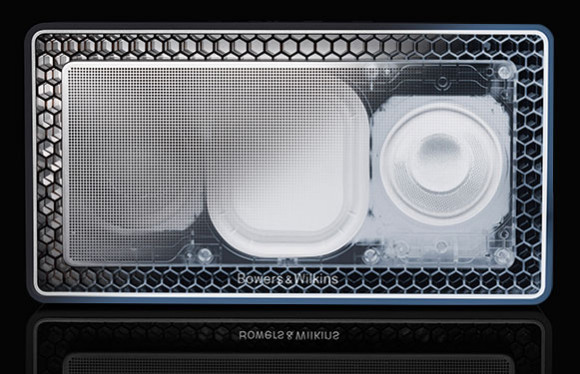 The powerful bass comes from twin force-cancelling bass radiators which are synchronised to help retain really low frequencies and a depth of sound that will astound you, given the fact it's coming from such a small unit.
The B&W T7 comes with DAC (digital-to-analogue-converters) which are the same as the ones inside their much larger speakers. This ensures a rich sound that will closely match the original source even at high volume. Vocals sound very crisp and there is generally an all round high level of detail in the sound.  Certain brands of technology such as Bowers and Wilkins always come with an  expectation of quality, which no doubt contributes to the sense that you are listening to something exceptional.
Verdict
Bowers and Wilkins have a huge pedigree in speaker technology and have over the years created some ground breaking audio tech, which has been adopted and filtered down into this, their first bluetooth speaker. The Bowers and Wilkins T7 is as far as I'm concerned the best portable bluetooth speaker currently available (of it's size of course).  B&W were right to wait until aptX technology became standard on most new smartphones and devices.
The price tag, as you would expect is not going to be small change.  The B&W T7 retails at $349 which may well put it out of reach for many consumers, but for those that can afford to spend that little extra, you will certainly not be disappointed.

To read customer reviews and see technical specification for the T7 click here.
---
If you found this post useful, please like, share or tweet it out using the social links and please feel free to leave a comment below.